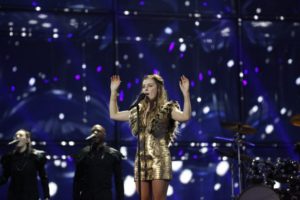 Molly suffered slight technical issues during her first run through but went on to deliver a fantastic first rehearsal to boost british morale. Would she pull of another solid set of rehearsals today to prove that the United Kingdom is in it to win it this year?
Molly took to the stage for her second rehearsal wearing a gold lamé thight length dress which had a black ruffled and fur trim. Her outfit was completed with strappy boots. Her four backing singers were wearing black suits with black feathers on their shoulders.
The staging has remained unchanged since the first rehearsal, with a black stage floor with white floral patterns on it. The backdrop starts off as black and white floral patterns with piercing blue uplights in front before changing to countless red and yellow lanterns floating up into the sky.
Molly wasn't in such good voice today but performed her first run through with much gusto. There were a number of places where she didn't sing her lyrics which led us to believe that she was having vocal issues, but she explained to the sound engineers that she was saving herself for the third and final run through. The backing vocals were much more prominent today.
On the third run through, she gave a good if somewhat strained performance in places. Her stage presence and command of the camera however was rock solid, with plenty of stamping and punching the air and she really connects well with the camera. The pyro effects were not tried today rather saving them for Saturday. A generally underwhelming second set of rehearsals from Molly, who really needs to rest her voice of the UK is to stand any chance on Saturday.