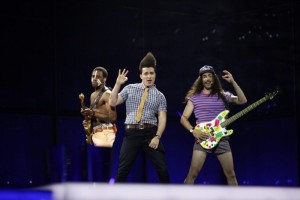 The French band, TWIN TWIN, gave their second rehearsal of Moustache for the 2014 Eurovision Song Contest. It was a lively show with lots of energy and bouncing around the stage that gives everyone the fun factor.
TWIN TWIN bounced around the stage with a lot of enthusiasm and gave a fun show. The song is high energy and the beat and rhythm are very catchy.
The lead singer is wearing a blue and white checked shirt and jeans and the two guitarists are dressed casually in t-shirts and shorts. There are two dancers on stage dressed in white (one boy and one girl). There is also a male backing vocalist.
The stage lighting is very bright and colourful with images of moustaches floating everywhere and on the stage itself. The background colours are mainly purple and yellow and flashing brightly.
The French act really makes everyone feel good with a happy vibe and makes us all want to party. Everyone should have fun with Moustache and they do not take themselves too seriously and we should all feel happy when they perform. Ooh la la!