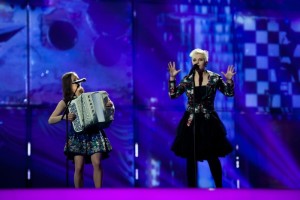 German girl trio Elaiza is the first act of the big five nations to kick off rehearsals this Sunday with their quirky entry Is It Right. Their victory in the German final was a surprise to many – would they have any surprises in store for us today with their rehearsal?
Despite an earlyish start on a Sunday morning, all three members of Elaiza looked surprisingly fresh faced and ready for action today. Vocalist Ela was wearing a black skirt over black leggings complemented by a jacket featuring red, white and blue flowers. Accordionist Yvonne was wearing a very fetching blue dress with a floral pattern on the lower half and contrabassist Natalie was wearing black leggings topped off with a white shirt with a black pattern on it.
The staging of their entry Is It Right was very fetching. The stage floor was covered in black and white cheques and the backdrop featured various images that once the camera zoomed out, you could see boxes spelt out the band's name in large letters. The primary colour of the backdrop is purple; glimpses of a theatre curtain can be seen. Yellow uplights at the bottom of the stage wall come on when the group launch into the first chorus. Towards the end of the song, the backdrop shows a shower of confetti and ribbons falling to the floor. 
Ela stands centre stage with Yvonne to her right and Natalie to her left, but after the first chorus, she takes her microphone off the stand as she walks around a little to make use of the stage floor. She gives an intensely emotive performance and has great stage presence. It has to be said that Ela's vocals have developed immensely since the German final. There was an initial scepcisism that Ela's vocals would veer out of control with the adrenalin rush that performing can give. What we saw today however was a playful, focused and energetic vocal performance that was brimming with confidence. When singing the first few lines in the very first run through, Ela's voice was a little on the hushed side, but from then on just grew and grew. She experiments a little with a few alternative ways of singing the closing lines, all of which worked really well.  
Ela interacts extremely well with the camera with just the right amount of gesticulation and all three girls beam when looking into the camera. There are some panning shots of the group that work really well on screen and show off all three a real treat. An enticing and intriguing first rehearsal from the German lovelies Elaiza today that received much applause in the press centre. Was it right for Germany to send Elaiza to Copenhagen? Judging by their first set of rehearsals, it most definitely was!