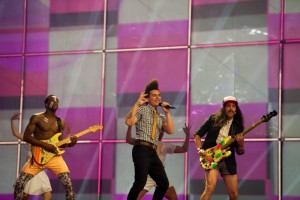 It was time to put on our moustache as Twin Twin went on stage for their first rehearsal. France's is not new in sending these type of songs which creates one big party on stage. Will France turn the tables around and achieve a respectable placing?
The staging of this act starts very dark but soon turns to be very colourful. A long shot through a spider camera takes place in the first few seconds of the song. On stage there is the lead singer with a raised hair style, even higher than Jedward's. He is clad in a checkered shirt, jeans and a yellow tie. He is joined with two guitar players with one of them bare chested and looks like an Aboriginal man, with his face painted. The other guitarist is the sole performer on stage to have a moustache. There are also two dancers wearing white outfits and a backing vocal on one side of the stage.
Yellow and turquoise moustaches are being projected as background in parts of the song. In other parts checkered boxes with different colours are shown on the background screen. The vocal performance is good but with this type of song there is no special requirements for an optimum vocal performance.
The French group move around the stage but considering the style of the song, they are not creating enough fun. The act is trying to transmit a colourful performance but it lacks an oomph factor that would get the viewers to vote for it. There are some camera shots which need to improve as in the first run a steady camera was caught on air, however overall it looks that when the crowd is present in the hall they will all want to have a moustache.