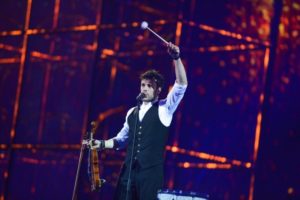 Swiss entrant Sebalter gave a polished if rather stiff first rehearsal on Wednesday. In the meantime he and his troupe have been entertaining fans at the EuroClub as well as spreading joy while playing outdoors in Copenhagen so hopefully today's rehearsal will see the positivity continue.
Whistling wonder Sebalter continues his hunt for stars today wearing the same outfit we got to see on Wednesday – a black buttoned up waistcoat over a plain white shirt, and the other band members were similarly attired. The staging is also unchanged, with the rear stage wall awash with reddish-orange hues and yellow swirling images providing a lively backdrop for this uptempo entry. Similar imagery is also shown on the stage floor. Yellow uplights set off the rear wall a treat. The stage is flooded with blue towards the end of the number with bright orange lava shown on the wall. 
The band members fill out the stage well, and Sebalter also uses the floor space wisely, walking down the catwalk as he plays his fiddle solo and interacting with the other band members. Panning shots of him playing the fiddle solo with the whole venue behind him will look really good on the night. There are some fantastic close ups, showing a grinning and smiling Sebalter, clearly loving his time on stage. He also appears to have loosened up considerably since Wednesday engaging well with viewers and spreading much of the joy that we have seen him sharing around Copenhagen.
As far as his vocals are concerned, he delivers a strong set of three rehearsals. His whistling is yet again pitch perfect, although he did sing slightly off key during one of the choruses in the second run through. This was yet another much improved rehearsal and by the third run through Sebalter owned the stage. His energetic performance of Hunter of Stars ahd press clapping along in the press centre and this could well see Switzerland back in the final for the first time since 2011. Forza, Sebalter!