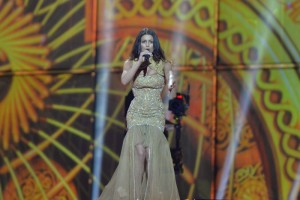 After a rather shaky start, Kasey Smith and Can-Linn took to the stage hoping to improve on their first rehearsal. With a rather unnerving false start on Wednesday, Kasey needs a successful rehearsal today to build her confidence and to reassure fans that Ireland is in with a chance to qualify next week.
We immediately see that the same visually impacting staging is kept from the first rehearsal, with the stage wall showing the golden celtic elements, a theme also replicated on the floor. This changes towards the end of the song when waves in green, white and orange are displayed on the wall behind, mirroring the colours of the Irish flag. Kasey is also wearing the same golden fishtail dress so this will presumably be her outfit for the semi final. Both members of Can-Linn are also elegantly kitted out in slender black dresses with silver stripes down the side, as is the female bodhrán player. Both male dancers are also wearing their black kilts and sleveless black shirts.
As seen on Wednesday, there were some camera work issues that needed addressing, these were by and large now corrected, but at one point we still got to see the back of Kasey, giving the impression that she had missed her camera queue. The male dancers stride onto the stage on queue just before Kasey launches into the first chorus, unleashing their energy as they bound around during their rather strenuous routine. Their presence on stage is vital, without them the staging of Heartbeat would have been far too static. There are some fantastic circling shots that follow Kasey around the stage, which if kept in, will show the audience in the background to great effect.
During the first run through, Kasey still sounds as if she is having some slight vocal issues in crucial parts of the song, where the notes are more demanding. The problems are however overcome and she appears to have loosened up significantly during the second run through and seems to be enjoying herself on stage much more. By the third and final run through she is connecting with the camera much better and could even afford a little smile, which was encouraging. Fans of Heartbeat can now be reassured that the second set of rehearsals for Kasey and Can-Linn were vastly improved, both in terms of vocal perfomance and presentation, putting Ireland back in contention for qualification next Thursday.