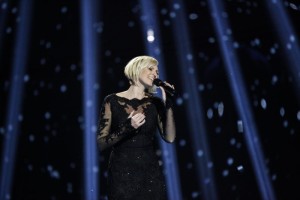 Sweden's Sanna Nielsen was back for her second rehearsal, one of the most anticipated of the day. Would today's rehearsal be just as polished as those we saw first time around or would Sanna Nielsen end up coming undone?
The same piercing light effects were seen on stage today during the opening of Undo, forming a prism of white rays under which Sanna is standing. The staging remains by and large unchanged from the first rehearsals, with all of the same lighting effects and the minimalistic black backdrop still in place. We're unsure, but it looks as if there is a glistening grid pattern of small lights used today that wasn't used during her first rehearsal.
Sanna has however gone with a change of outfit for today, favouring a far more dressy option – an elegant figure hugging black number with lacy detail on the neckline and sheer black upper half- could this be her outfit for the first semi final? It seems highly possible.
On the camera close ups she looked rested and was by and large in fine form. She delivered a confident, expressive vocal that technically was overall as we have come to expect from a singer of her calibre – excellent. However, some of the more vocally demanding notes were showing signs of straining, particularly when singing the drawn out notes at the beginning of each chorus and also towards the end of the song. On the third and final run through, there were some ad libs made to the vocal arrangement which made for a significant loss in dynamic.
There are some beautiful close up shots of the rather photogenic Ms Nielsen, but despite the intense emotion the lyrics of the song ought to convey, there is very little connection made with the camera. Her efforts went down very well and were much appreciated by those in the actual hall, but there was a deafening silence in the press centre.