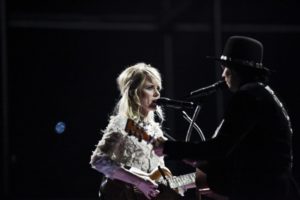 The Common Linnets aka Ilse DeLange and Waylon gave a confident, understated performance in their first rehearsal, showing that simplicity is often most effective. Waylon may have stuck with a western themed outfit but Ilse DeLange turned on the glamour in a highly innovative dress.
The Dutch have excelled themselves in keeping things simple and free from complication this year. No frills (apart from on Ilse's dress) and no nonsense are the key words to their stage show. All of the elements have been kept from the first rehearsal; the opening of their three minutes with an aerial view of the stage showing the innovative moving road effect on the stage floor complemented effectively by the stark backdrop in black and white showing intertwined tree branches and what look like palm fronds. The moving road effect later transforms into a cracked imagine in black and white, rather like that of a desert floor.
The drummer and guitarist are dressed in black, so they almost blend into the background, leaving full focus on the pair performing the song. And what a pair they are! Waylon has kept his black cowboy hat with black jacket but Ilse has really been given a complete transformation in an ivory coloured dress that has intricate flower frillwork on it topped off by a rather regal looking necklace.
When the two perform, their voices blend together perfectly, they are so well suited and this results in some stunning harmonies. They have conviction and feeling when singing their melancholic and pensive entry. But it's not just their voices that are perfectly suited – there is a strong chemistry between the two on stage as they stand on either side of the road's dividing line singing to each other. The Common Linnets' second rehearsal was as close to perfect as you can get – nothing should be changed here, and if there's any justice, the Netherlands should easily make the final this year with this noble effort.