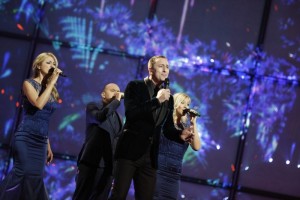 Sergej Cetkovic is the representative for Montenegro and his song, Moj Svijet, one of a handful of songs not to have any English lyrics this year, is all about love, loss and longing. If Sergey manages to qualify to the final, this will be the first time that Montenegro will be managing to do so.
The song starts with a shot of the floor stage lit in black, dark blue and purple before a skater crosses along in a cream tutu dress trimmed with white feathers; later, she is seemingly leaving marks in different colours on the floor as she skates around. Sergej soon appears, wearing a black velvet suit, black shirt and tie. He performs the first half of the song centre stage surrounded by the skater, who is really Montenegro's main presentational feature. The stage backdrop remotely resembles a jungle forest in blues and hints of green; later on, more colours are added to the backdrop at key changes in the music and the edges of the stage are lit in warm yellow.
Sergej's vocal performance is impeccable throughout, he appears relaxed and manages to look to the camera. This is a large improvement to this rehearsals last Tuesday when he kept his eyes closed for most of his performance as he was concentrating on his singing. Halfway through, the singer is joined by his three backing vocalists, one man and two women in blue dresses, and the performance finishes with a close shot of Sergej surrounded by them. The overall effect is quite lyrical and in keeping with the essence of the song.