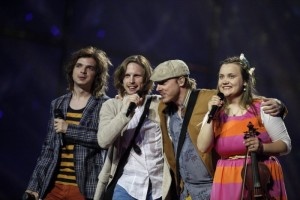 The fun loving Latvians led by German Joran Steinhauer have been entertaining both press and fans during their time in Copenhagen with playful performances and general capers. Their cake baking was interruped on the very first rehearsal due to technical issues.
Joran begins the Latvian rehearsals by walking to the centre of the huge stage on one of the catwalks together with the gituarist. He is sporting a white jacket and has with him his trademark guitar. The other band members of Aarzemnieki were also wearing the same outfits as in their first semi.
No changes were made to the backdrop for their second rehearsal – the same imagery of treetops strewn with lanterns was used. 
The latvians seemed a lot more organised today in terms of how the act comes across on stage. They seemed a lot more cohesive together on stage, a marked improvement on their first rehearsal. They seemed to be having a much better time during their rehearsals and the wide panning camera shots of the four members were greatly improved.
Joran makes good use of the stage by moving around a lot during the performance, making this a lively and spirited rehearsal. The group as a whole seem to be in much better voice today too. This was generally a much improved second rehearsal – the feelgood factor shines through and a lot of the spontaneity and fun elements that were presented in the music video are now seen on stage, which should hopefully put viewers in a good mood on Tuesday and grab some of those all important votes.