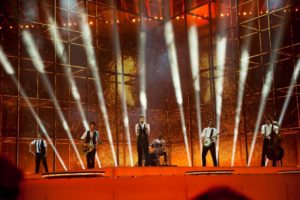 Swiss entrant Sebalter won't only be hunting for stars on Thursday but also for those all important votes to take Switzerland to the final. He hopes that his song Hunter of Stars won't fall prey to a lack of interest on the night of his semi final. 
Swiss entrant Sebalter turned up very dapper today wearing a black waistcoat over a white shirt paired with black trousers. He also had a fiddle with him and a small timpani drum. The five band members were also similarly themed in the wardrobe department; a banjo player, one playing the tambourine, a drummer, a guitarist and one playing a contra bass. 
Sebalter is in fine vocal form and really comes across as having a good time on stage. He is all smiles, and his whistling is pitch perfect. The whistling clearly seemed to be infectious, as a number of press were copying it throughout the press centre. He is clearly inspired by Alexander Rybak in his routine, with oodles of drama as he bangs the drum and fiddles as if his life depended on it. He is another artist that clearly feels comfortable in front of the camera and there are some great shots of him – let's face it, he is rather photogenic so doesn't have to do much in that respect.
TThe swiss backdrop starts off ablaze with red, yellow and orange tones in a mottled effect. The stage floor is primarily black with swirling yellow patterns which is intermittently projected onto the stage wall. This later turns into a deep blue with white uplight rays set against it, before reverting bacl to the warmer tones.
The overall impression of the swiss rehearsal is that it is already highly polished, but still rather twee. Sebalter needs to work on his diction, as a lot of what he sings is quite inaudible. Hunter of Stars does have some interesting elements, but just lacks that little extra to make it stand out from the dtiff competition that semi two has to offer. The lack of applause in the press centre bore witness to that today.