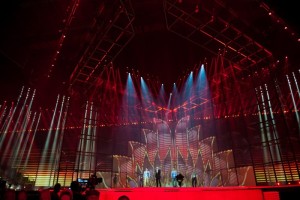 TEo was next in stage for Belarus and hopes to appeal to those with a sweet tooth among us when performing his entry Cheesecake for the first time today. Would we run the risk of over eating and nausea after his performance or would he have us coming back for seconds?
TEO took to the stage looking very dapper indeed, and quite frankly we wouldn't have expected anything else. Suave and stylish in a dark suit with a white shirt, he came across as exuberant and very confident, with his trademark cheeky grin visible for all to see. 
The belarusian backdrop starts off red and yellow before changing to a colder blue colour with a kind of lotus flower formation and stripes making up the backdrop before reverting back to the same warm colours. Accompanying TEO on stage are five men; four of which are dancers and the other one presumably a backing singer.
He recreates many of the same slick and tight dance moves as seen in the official music video. He has a playful presence on stage, is extremely flirtatious and the camera seems to love him. He suffles and sidles around to the suggestive rhythms and preens himself briefly before launching into the final chorus. TEO is in fine voice today and looks very much the ladykiller. The jovial, likeable performance is rounded off by TEO blowing a kiss into the camera and then pretending to kick it playfully.  
A good, solid first rehearsal for Belarus with TEO giving a confident rendition in all three run throughs – the surprising lack of applause in the press centre was however very noticeable.