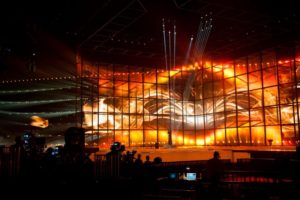 One of the most talked about acts at this year's event was the first to take to the stage today, namely Conchita Wurst. Without doubt one of the more seasoned performers, the PR machine is in overdrive – would Conchita rise to the occasion or would her phoenix wings be clipped?
The stage starts off completely darkened. with only a light spot visible beaneath swirling dry ice as well as downlights cast over Conchita's silhouette. Lights suddenly flood the stage to reveal Conchita atop a small podium. Her backdrop is suitably dramatic for her grandiose and opulent entry, beginning with a black backdrop with orange shooting stars before becoming awash with flames in hues of yellows and orange. The flames span out to the sides, as if emulating the shape of phoenix wings.
Conchita looked every bit the sultry diva with her slender frame shown off magnificently, swathed in a black, sequinned, figure hugging gown. Dressed up to the nines, in Conchita's case there is no such thing as less is more, with her long luscious lashes and smouldering looks a clear focal point for the camera. Wonder if she prefers Maybelline or Max Factor? Her appearance was in any case flawless.
Vocally, Conchita showed great discipline and had full control of her rehearsal from the first note. She delivered consistently immaculate vocal performances and had such a tremendous stage presence and command that was actually pretty mesmerising to watch. There are some fantastic close ups of her with subtle use of a wind machine.
This is a strong opener for the day, with a very intense and demanding performance. If Conchita pulls off a performance like this on Thursday night, we should see Austria in the final once more. It definitely got the biggest applause in the press centre within the last three days after each of her performances.