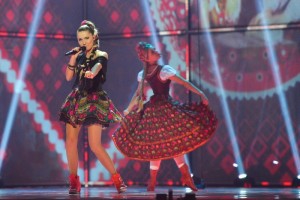 Donatan & Cleo were the final act of the day and they brought sass and attitude to the rehearsal stage with their highly contemporary bilingual entry My Słowianie – We Are Slavic. Would the pair manage to recreate the tongue in cheek and humourous music video on stage today? 
The Polish stageshow opened with Cleo calling out Donatan's name against a backdrop of red displaying some white circular images  which quickly morphed into folksy patterns in red and white which complemented the outfits of Cleo's three polish lovelies in traditional costume. She was wearing the same outfit as in the music video, ie a puffball skirt and black off the shoulder t-shirt with her trademark plaited hair. Donatan was nowhere to be seen on stage.
Aerial shots of the stage showed a floor that was visually stunning with red, white and black patterns matching the stage backdrop. It also shows the three dancers and Cleo whirling around and then dancing in a circle which comes across brilliantly on screen.
Cleo's vocal performance was rather aggresive and shouty, but that was to be expected, given the sound and image of the entry. She attacks it with vigour and vivacity, strutting around and pouting, looking every bit the temptress. 
The press present in the centre were very excitable, as the slightest glimpse of two busty beauties sitting on each of their catwalk washing and making butter like in the video evoked raputrous applause throughout the centre. It was a fun and tongue in cheek element that the act had succesfully managed to import and use well on stage – it worked a treat. Highly suggestive and saucy turning up the heat as Cleo performed her act. The whole act is brought to a finish as one of the dancers does the splits in front of Cleo, the other two flanking her either side making suitably coy poses. This was quite the explosive number and Cleo definitely shook what her mama gave her – welcome back, Poland, you've been sorely missed.