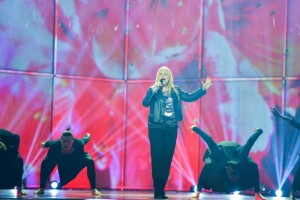 Flaxen haired Cristina Scarlat singing Wild Soul for Moldova was the opening act of the day. Her entry has a very expressive and dramatic music video, but would she manage to recreate such an emotive performance on stage today?
Mutli-talented Cristina Scarlat was the first artist to take to the stage today performing her dark, brooding number Wild Soul. She took to the stage wearing a black leather jacket over a dark print t-shirt. She looked rather tired and would definitely have benefitted from a trip to the make up room. Cristina was joined by four dancers who writhed and performed a rather distracting dance routine around her.
The stage itself was quite stark and monochrome at first, with woodland imagery on the backdrop behind her with a row of blue uplights at the back of the stage. The dancers start off hidden behind her, with only one visible, appearing as if suspended in air. The backdrop changes to a vibrant pink with images of flowers mid song which comes across as rather strange, as it doesn't quite fit the dark and dramatic sound of Wild Soul. The stage imagery is brought to a close by flashes on the video wall behind her. 
Cristina's vocals were consistently well under par during her  rehearsals, singing off key and her voice audibly strained. There are some great panning shots of the stage but regrettable also some missed opportunities with several close up shots of Cristina where she fails to engage with the camera – she looks directly at it but her look just seems so vacant and uninspired. Despite the dramatic sound of the Moldovan entry this was a rather underwhelming and disappointing start to the day.