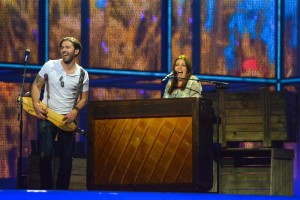 Malta's Firelight were next to take to the stage with Coming Home, which they finally hope to bring home Eurovision to Malta 
with. Will they be able to replicate the joyous performance we saw in the Maltese final ealier this year?
The Maltese staging involved a backdrop image of a cornfield against a blue sky to begin with keeping in style with the bright and breezy vibe of Coming Home, imagery that was also replicated on the stage floor. There were empty wooden crated stacked up around the group, perhaps trying to give the feeling of a rural setting. Towards the end of the song, the backdrop changes to a rather stunning sunset. 
The camera started off with panning shots of Firelight from behind. They had with them a drummer and an upright piano on stage. All members were casually dressed, reflecting the relaxed vibe the group gives off while on stage. Both the male and female vocals meld perfectly together, and the male vocalist Richard gave a brilliant note perfect performance – Coming Home is by no means an easy song to sing. 
The band members didn't move around at all on stage, but that didn't seem to matter – they had great synergy and dynamic between them that leapt out of the screen. Richard had a few issues with focusing on the right camera, but these were by and large resolved. All six members clearly enjoyed their time on stage and their performance was brimming with enthusiasm and this enthusiasm will hopefully translate into votes, leading to qualification next Tuesday.