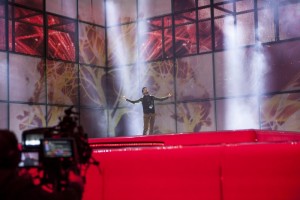 All eyes are on the first rehearsal of the day, namely Armenia with Aram mp3 and Not Alone. Not only because of the current status as one of the favourites, but for the first time the press would get to see how his act come across on the high tech stage.
Aram took to the stage wearing casual attire, probably not his rehearsal outfit. The stage floor was rather like the night sky, awash with blues and twinkling stars. The screens behind him were alive with graphic imagery, replicating the stage floor with swirling astral patterns and shapes. His act begins with him standing centre stage in what looks like an energy orb, with six blue rays shining down over him abd camera angles that make it look like a ring of light from above. 
There were both sound and screen problems in the press centre for much of the first run through, so it was rather difficult to get form a proper opinion of how his voice came across. The backdrop changed dramatically after the build up and once the thundering drum beats kick in, changing to vibrant reds with boxed images on screen. The second run through was much better both in terms of sound and picture. Vocally, Aram sounded in fine voice, mastering both the gentle introduction and coping well with the more powerful ranges, providing intensity where needed, but the drum roll build up in the background is rather overpowering and doesn't let his voice come through as strongly. 
The stage itself is cavernous – with the backdrop resembling an open book behind the acts. After the colour change from blue to red, Aram almost becomes lost on stage for much of the time, with only his silhouette being visible. The staging would greatly benefit with a toning down of the backdrop, more in fitting with the moody feel of the song.