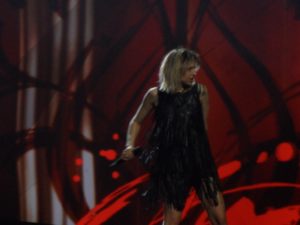 Amandine Bourgeois was next to the stage for the second set of rehearsals for France.  Amandine gave a confident performance of L'enfer Et Moi as she looked at ease with her show.
Amandine was wearing a short black and shredded leather type dress with black high heel shoes.
She was joined on stage by three backing vocalists (two girls and one guy).
The song begins with the lights low and then the background lighting becomes a mass of red with black leaves.  Pearl shrobe lighting beams upwards through the song making the affect more intense.
Amandine rocks the microphone sidewards and moves to the sides of the stages and is shaking her hair as she gives a rocking performance.  She is waving her arms and struts around and commands the stage.
The camera angles show the intensity of Amandine's show with close ups from all angles and you can see she is putting in her heart and soul with this performance. 
This was a dramatic and intense show from Amandine and with her soulful vocals, this pop/rock type sound could give France a good placing at the 2013 Eurovision Song Contest.