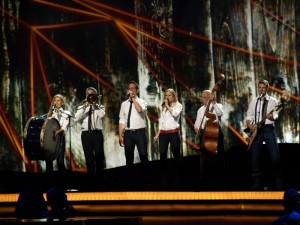 Following a rather bland rendition of You And Me by Takasa on Thursday, Takasa really have to turn on the charm to convince those of us watching that they deserve a place in the final. The Salvation Soldiers have to pull out all of the stops if they are to prove themselves worthy of a spot in the final.
The stage backdrop is identical to in Takasa's first rehearsal, featuring what looks like sheets of metal with loads of girders in muted earthy colours with strokes of orange. Their choice of attire is also unchanged, with all wearing dark jeans, white shirts and black ties, the two women on stage wearing simple white blouses.
The six stand in one line on stage and thus the performance is pretty static. There is plenty of punching the air at the start of the song, but apart from that the six remain motionless. There is great interaction between the male and female vocalists and their voices are perfectly matched with some impressive harmonies. On the second run through they had to interrupt their performance due to some glitch. They do have charm, Takasa, that's for certain.
With absolutely no gimmickery to speak of apart from the old man on stage (and let's face it, he's not playing that contrabass!) the Swiss are relying on some nifty camerawork to help spread their charm and make it reach out of the TV screen to viewers. Twee simply won't cut it in this contest. Based on performance alone, Switzerland do deserve a place in the final, but it's doubtful whether their performance will win over most viewers.