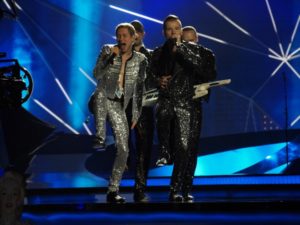 Latvia opens the second semi final with a great party. PeR is setting Malmö Arena on fire
The Latvian artists call themselves PeR. It stands for "Please Explain the Rhythm". The name, however, may not be the right one as they have plenty of rhythm. It is a very high energetic performance and will for sure set the audience in the arena on fire. The Party has begun.
Compared to the first rehearsal earlier this week not much has been changed. They start at the main scene and towards the end they use the catwalk. The lead singer is at one point throwing himself in the audience to stage dive. That looks great on camera. It feels like there is no planned choreography but just some friends
having a great time jumping up and down – and that works pretty well and the performance suits the song.
It is Eurovision, so men are allowed to wear silver clothes. The lead singer, Ralfs, in those sparkling silver pants and jacket he wore in the national final and the rest of the band in sparkling black outfits. One band member is playing an electronic guitar another one plays a keyboard.
A great opener for a semi final.