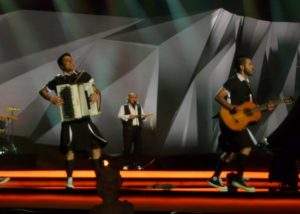 The second Greek rehearsal went well and the audience in the arena will be dancing all night long during this song.  
After the Icelandic ballad the second semi final continues with the Greek entry. Although it is called "Alcohol Is Free", the message of the song is not to drink a lot. Actually it is the opposite.
It is a happy tune and the band members from Koza Mostra are dancing around while playing their instruments. They dance around Agathonas Iakovidis but also use the catwalk during the performance. The energy of the song is very well captured in this dancing around. In the end of the song lights in the instruments are turned on.
The members of Koza Mostra are wearing kilts, and as the stage floor manager said right before they went on stage, they wear it the traditional way – meaning nothing underneath.
The second Greek rehearsal went well, and the band is doing a fine job performing this song.