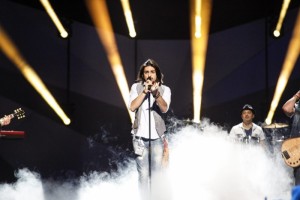 Rock outfit Dorians for Armenia delivered a credible if rather ordinary performance of their plea for peace, Lonely Planet, during their first rehearsals. Would they implement any changes or choose to play it safe for their second round of rehearsals?
The staging for Armenia is the same as in the first rehearsal, with a darkened stage and backdrop pierced by bright ochre rays. The band have decided to stick to the same choice of wardrobe too, with slightly grungy outfits, jeans and t-shirts that look as if they're straight out of a charity shop. But this is a soft rock song, so if the band had worn tuxedos while performing, that would have looked wierd.
The band have chemistry on stage and attack their song with gusto, yet there's still the feeling that some oomph missing – it's as if they're holding back and not going full throttle, possibly saving themselves for the night of the semi final. There's no denying that Gor Suyjan has stage presence and feels completely au fait with a camera, but his bandmates however just appear stiff and lifeless.
Dry ice on the stage floor is used to create a bit of atmosphere, it looks  superb. There is some great camera work with close ups of Gor and sweeping shots of the stage. Pyro effects in the form of brief spouts of flames are used towards the end of the number, followed by a lattice like effect made from flames which is effective. A wind machine is also used for some reason, bizarrely enough. The whole number is topped off by short, sharp bursts of flames coming from the edge of the stage. All in all an acceptable set of rehearsals, even though Gor's vocals sounded strained at times, but the whole thing came across as rather bland and anonymoous and will have it's work cut out to stand out from Israel and Hungary on the night. This could very well be the second consecutive year without Armenia in the final.