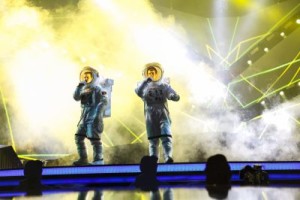 Who See had a noteworthy rehearsal of their song Igranka on Monday.  In this second time on stage, the Montenegrins continued to have a song that people would talk about.  How did it go?
On Monday we saw our first evert astronauts on stage.  The duo Who See again wore these costumes, in a dramatic industrial performance.  They emerge from a large cloud of dry ice, and the dry ice theme continues with jets of it being shot up from the front of the stage at regular intervals.
On cue for the chorus of the song, Nina rose up from beneath the stage and belted out here part of the song.  She's got rid of some of the robotic bits of her costume but still wears the small angular wings on her back.  There were no major problems with the vocal to this song.  There may, however, be issues with the noise from the jets of steam muffling the rapping from the duo.
The song is very a striking contrast to Anouk's downbeat ballad on before.  There's lots of things going on.  The backdrop of green and yellow lights and laser beams adds to the overall impression that this could be in with a chance being the first indepenent Montenegrin song to make it to the final.