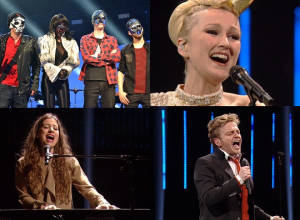 Belgian broadcaster VRT has surprised many fans this year by organising a grandiose Belgian preselection, with both auditions and semi finals, culminating in a grand final on the 16th of March at the huge Sportspaleis in Antwerp. After a hectic couple of weeks with auditions and call back rounds, the first four semi finalists are ready and raring to go.
The last time VRT had the responsibility of selecting the Belgian entrant, they made a half hearted attempt at a final with the internally selected artist Iris and just two songs to choose between, meaning viewers weren't exactly spoilt for choice. This year however, they're determined to follow up the positive trend created by Roberto Bellarosa and his twelfth place in Malmö with Love Kills. Thirty acts have been competing for one of the twelve spots in total in the semi finals, in auditions where they had to sing past entries. With only a matter of hours to go before the first four semifinalists get to sing their entries proper, let's take a closer look at them. VRT has yet to confirm their order of appearance on the evening; the order they are presented here does not necessarily reflect the order of tomorrow's line up.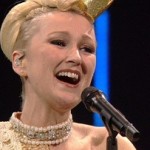 01. Petra – Killer Touch (T & M: Georgie Dennis, Christopher Wortley, Paul Drew, Greig Watts, Pete Barringer)
41 year old Petra de Steur needs no introduction to Belgian Eurovision fans. During the course of her career, she has released almost thirty singlesunder various names such as Petra, Petra & Co, La Sakhra, Pep Art and OhOh7. She was discovered in 1988 and her debut single Laat je gaan/ Just let go appeared in 1989, landing her her first top twenty hit. Other notable hits include Jij daar! (You there!) and In een klein stationnetje (In a small station). She scored a major hit with a cover version of former Belgian entrant Ann Christy, Ik leef voor jou ( I live for you) peaked at number 7 on the charts.
Petra has tried to represent Belgium at Eurovision on a number of occasions. She made her first attempt in 1993, with Ga door (Go on), coming last in the final. She tried once more in 1999 with the song Diep in mijn huid (Deep under my skin) but failed to make the final. She provided backing vocals for Gerlando in the Belgian preselections in 2000, but again making it to an international final proved elusive. As La Sakhra, she made a final attempt in 2006 with Wonderland, coming second in the final to Kate Ryan. The song however gave her her biggest hit, peaking at number 4 on the charts.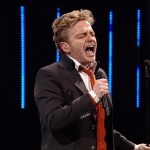 02. Udo – Hero (In Flanders Fields) (T & M: Pokka Jr, Nadge, Udo Mechels)
Brussels born Udo, or Udo Mechels to go by his birth name first felt the glow of  the spotlight when he auditioned for the 2003 season of Belgian Idols, where he advanced to the semi finals stage. He persisted however and entered a similar show, X Factor in 2005, and won the whole series at the end of 2005, propelling him to stardom. His debut single Isn't it time was released in 2006 and became a massive hit, as did his debut album U-Turn the same year. He won the TMF Best New Artist award and the Radio 2 trophy for Breakthrough of the Year. Bitten by the television talent show bug, he entered another competition, Zo Is Er Maar Éen in 2007, which he won with his performance of Ik mis je zo (I miss you so much). The song was released as a single, together with the french language version Tu me manques, which earned him a gold record. His sophomore set, the album Good things coming appeared in 2008, spawning a further three singles. His most recent release was the album Barrières (Barriers) in 2010.
Besides his solo career, Udo has also made quite a name for himself by writing material for others, such as Laura Lynn and Lindsay. He was approached by VRT in 2010 to compose a song, which resulted in the entry Kusje van mij (A little kiss from me) performed by Junior Eurovision entrants Jill & Lauren (although not at the 2010 contest). Udo has also written songs for a number of popular foreign acts, such as Germany's Montrose, Jolin Tsai, a star who is huge in Asia and even member of boyband Blue, Antony Costa.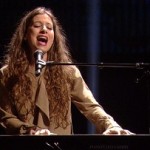 03. Eva Jacobs – Nothing is Impossible (T & M: Mick Lee, Pernille Georgi, Chris 'Ruff Diamond')
Eva Jacobs grew up surrounded by music and was apparently fascinated by the piano as a toddler. Her passion for the piano continued to grow with her, and so when she turned seven, she enroled at the Beringen Academy of Music, Drama and Dance. She combined her love of music with sport, in the form of acro-gym, but had to stop on the advice of doctors. This led to her focusing fully on the piano, with Chopin, Mozart and Débussy being her favourites. Eva grew up in a religious family and this is how her introduction to singing came about. She started listening to a wide range of singers such as Alicia Keys, Whitney Houston and Aretha Franklin, to name but a few. She took the first tentative steps at composing her own music aged just thirteen, when she also recorded her first song, Thank You. Her first official single Shine was released in the summer of 2011 and was picked up by radio stations.
But it was to be later that year that she decided to audition for a TV show and so the talented Eva Jacobs would first become familiar to Flemish viewers when she participated in the televised singing competition The Voice van Vlaanderen in 2012. She impressed both jurors and viewers with her soulful performances, but was eliminated from the show much earlier than expected. Eva released one of her songs, If I ain't got you, as a single. Her debut, the twelve track self titled debut album was released in May 2012 on the Petrol record label, but went largely unnoticed. Her participation in The Voice van Vlaanderen opened many doors to her, allowing her to play the length and breadth of Flanders. She is currently working on new material.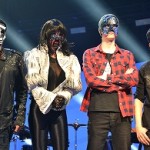 04. Day One – Whoever You Are (T & M: Yves Gaillard)
Day One is a group that is something of an enigma for many, possibly the most bizzare act to feature in this year's preselection, as they insist on wearing face masks during their performances. Little is known about them; they are a collective of four female musicians who wish to remain anonymous. They perform in a drum and bass style and all four have backgrounds from various music projects. The reason they wear the masks is that they wish to be assessed from a neutral point of view, but this gimmick has fuelled speculation in the Flemish media, with Flemish daily Het Laatste Nieuws going so far as to claim that it is none other than 2006 entrant Kate Ryan that is one of the women behind the masks. Regardless of their identity; the gimmick appears to have worked so far, with Day One being one of the acts to be awarded a semi final place through the call back programme that took place on the 16th of Februar – a full report on that programme is given in our Call Back Show article.
You may also like to read: