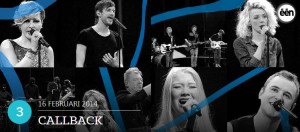 In Belgium eight artists had qualified for the semi-finals. They are now joined by four more acts, who won their spot tonight via a second chance heat, where they all competed singing Eurovision covers that was judged by Ukrainian Eurovision winner Ruslana.
Tonight's second chance heat in Belgium was titled Callback, and it was here eight acts had been given a second chance to qualify for the two semi-finals.
The comments from the expert panel:
White Bird – Love Shine A Light (United Kingdom 1997)
Ruslana felt he really loved music and she would support him. He is also called a stage animal and he is told that his voice has a nice colour, which none of the others have, but that he lacks on the high notes.
Jessy – Je t'adore (Belgium 2006)
She is called a fantastic wonderwoman, but the judges aren't all that happy about this version. She has previously made herself known for a rock attitude, something they are sad to see totally gone now.
Mr. Jones –  My Star (Latvia 2000)
The judges have mixed feelings. The scenary is great, but the song might have been too difficult to him as he is not strong enogh on the high notes. Ruslana added that she isn't happy either and thought he was better at rehearsals.
Bandits – Medley of: Anni (a Clouseau song from 1989), Jennerfer Jennings (a song by Louis Neefs from 1969) and Only Teadrops  (Denmark 2013)
This band is being compared to a young Beatles, but they do wonder if they might be too young, but they conclude that Europe belongs to the youth, and as other countries sends 8 year old, so they can also send the young Beatles. Ruslana adds: Bye Bye Justin Bieber!
Joyce – Save Your Kisses For Me (United Kingdom 1976)
The judges see a very talentet girl in Joyce, but they think it is a couple of years away. They will be curious to follow her in the future, but she is not quite ready for the Eurovision Song Contest yet.
Day One – Nocturne – (Norway 1995) 
No one knows who is in this band as they are hiding behind masks and does not reveal their identity. The judges haven't all liked this band before, but that has changed. As they say it: "It is not about who is behind the mask, but what is behind". They are being called amazing!
SIL – J'aime La Vie (Belgium 1986)
Ruslana says that her father likes this song, her mother likes it, she likes it – and for the next five days it will be stuck in her head. She was so thrilled that she insisted on singing it acappella with SIL instead of giving comments. The other judges also liked it and said that they were very positive.  
(Note: Search online if you want to see a video of SIL also singing this song at the age of 7, it was shown in tonight's show)
2 Fabiola feat. Loredana – Euphoria (Sweden 2012)
The judges thinks it requires courage to pick this song, and then they add that the leadsinger needs to thank the oul for donating the feather, which refers the outfit of her.
The show:
At 20:30 CET the show, hosted by radio host, Peter van de Veire and radio DJ, Eva Daeleman, kicked off. It was a short show, only lasting little over an hour. 
The show started with Ruslana singing her 2004 Eurovision Song Contest winner, Wild Dances. She was significantly more conservative dressed this time though. When she took the expert seat she told about her experiences from 2004, and another expert, Bart Peeters was extremely happy to see Ruslana, whom he really didn't want to let go of again. He however added that he was proud of her as political activist.
Everything went extremely speedy in tonight's show, where we before each of the eight songs saw clips from their rehearsals where Ruslana was helping each of them with vocal advise. 
The voting:
An expert jury consisting of Bart Peeters, Piet Goddaer, Jef Martens and the 2004 Eurovision Song Contest winner, Ukrainian Ruslana, gave points and comments to the eight participants. First mentioned jury member, Bart will be quite familar to many fans as he has hosted the Flemish national final several times. Piet Goddaer is a Belgian musician better known as Ozark Henry, his stage name, while Jef Marten is DJ and producer.
Besides the jury, the public has 50% influence on the result. They were given 5 minutes to vote in. Their votes were not shown, as besides the points from the judges only the combined placements were announced.
Below you see the result:
| | | |
| --- | --- | --- |
| Participant  | Judges  | Combined placement  |
| White Bird | 82  | 5th place  |
| Jessy  | 70  | 6th place  |
| Mr. Jones  | 59  | 7th place  |
| Bandits  | 87  | 1st place  |
| Joyce  | 68  | 8th place  |
| Day One  | 91  | 3rd place  |
| SIL  | 89  | 2nd place  |
| 2 Fabiola feat. Loredana  | 75  | 4th place  |
With this we have a result. The four lucky qualifiers tonight are: 
Bandits, SIL, Day One and 2 Fabiola feat. Loredana 
They will join the eight already selected ones: Eva Jacobs, Axel Hirsoux, Nelson, Udo, Petra, Yass, Tisha Cyrus and Axeela, and as such the line up for the two semi-finals are complete.
Belgium at the Eurovision Song Contest:
The first ever Eurovision Song Contest was held in 1956, and Belgium joined from the start and have only been out in 1994, 1997 and 2001.
The country is split with two large regions; French-speaking Wallonia and Flandern, where the Flemish language almost is identical to Dutch. Those two regions have each their broadcaster, RTBF and VRF, who rotate in order to participate at the Eurovision Song Contest. The country has only won once, in 1986 where Sandra Kim won with J'aime La Vie. In order to live up to the rules of that time it was claimed that she was 15, but later it turned out she was just 13 years old. Despite having cheated she got to keep her victory.
In recent years Belgium have had quite some problems reaching the final of the Eurovision Song Contest. In the period from 2005 to 1009 included, the country never qualified and since that they also failed in 2011 and 2012. Last year Roberto Bellarosa ended 12th with Love Kills.