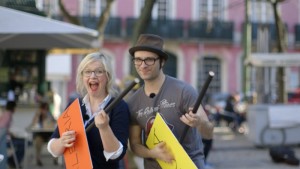 In the fourth episode of their warm up serie looking at somewhat different entries from around Europe, DR paid a visit to Portugal. They have more demonstrations that in other European countries, and in 2011 they brought it to Eurovision with Homens da Luta.
It was hard not to notice Homens da Luta at the 2011 Eurovision Song Contest, but most of Europe didn't quite get what was going on. At the biggest glitter festival in Europe, Portugal was represented by a group of 70's inspired demonstrates, who couldn't stop smiling while waving big signs – with text in Portugese. You had to be local to get the point, but that was exactly what it was about. It was a local thing – and it did't matter how it would do at Eurovision. The Portugese selected it, because it was what they needed at that time.
For the fourth episode of Europa in glimmer (Europe in Glitter) host Sisse Sejr-Nørgaard had travelled to Portugal where she met up with Vasco Duarte from Homens da Luta. He explains that the song is about fighting with happiness and joy instead of with violence. He explains that he didn't actually intend to be politically, and that he hates politics himself, but that it somehow just ended up that these caracthers that combines music and comedy got some political messages.
Vasco also explains a bit of the background behind Homens da Luta. He tells that he came up with the figures based on some older protest singers and then he just brought it up to date, via a 70's time capsule!
The song Luta É Alegria ended up being quite popular in Portugal, in particular among the left wings and the lower class fighting hard to be able to feed themselves and their families. The TV viewers are also made aware of that it isn't the first time a Portugese Eurovision entry ends up being used for a political purpose as the story about how their 1974 entry was used for the revolution was told. 
Within the last 5 years in particular the Portugese have shown themselves as a population that like to protest, and also when Sisse is there, she walks into a demonstrations. She is surprised to find that the ones that should look after that the demonstration doesn't get out of control, the police, they are the ones demonstrating. It turns out that they demonstrate as their working conditions have become so bad, that they need to pay for the handcups themselves! 
This episode of Europe In Glitter turned into being a programme about the general bad living conditions in a country where big parts of the middle class already have moved out, and more are to follow. Sisse Sejr-Nørgaard do however manage to find a couple that has decided to stay in Portugal, but as they explain it, probably on behalf of having children as that is not really an option as things are right now. 
Previous episodes to catch up on:
Below you can see Homens da Luta's performance from the 2011 Eurovision Song Contest.