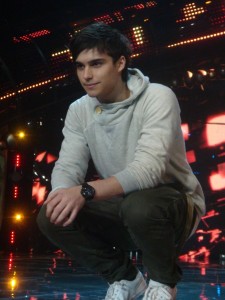 Following his triumphant third place at this year's Eurovision, it seems as if the Swedish appetite for all things Saade is insatiable. Eric Saade talked to Swedish tabloid Aftonbladet about his music, plans and life after Eurovision.
With his latest album, Saade Vol. 1 currently riding high at the top of the charts, the young artist can apparently do no wrong. He has performed on the popular Allsång på Skansen TV show, something he doesn't really think suited his image :" It's a typical Swedish programme that really doesn't suit me as an artist", he tells Aftonbladet. Following his result at Eurovision, Saade exclaimed that he
intended to take Europe by storm, however during the summer, he has had to rethink his ambitious plans, as he quite simply hasn't had enough time. "I haven't got the time to prioritize a serious international career right now. Having said that, I've signed a record deal that covers 22 countries, brought out my single Hearts In The Air in Norway, so I guess you could say things are moving. But of course, it will take time to establish myself as an act in other countries; it took me five years to make it in Sweden."
His album has almost shifted enough units to qualify for a platinum disc, and he is currently touring the country to promote his album further, as well as appearing on numerous TV shows to keep himself in the limelight. Saade is also very aware of just how valuable the exposure is that he has gained from appearing in such programmes as Allsång på Skansen : "It's down to shows such as this that my newest single Hearts In The Air has become such a huge hit" he enthuses.
This past year has been a milestone in many ways, not least because of his breakthrough with Manboy in 2010, and he finally began to find his feet as an artist: "I've been allowed to do my own thing 100%. My first album didn't really reflect the true me. Since then, I've had the time to evolve and write all of the tracks on my newest album, find myself and not least have the opportunity to try my hand at a completely different musical genre. It's all about a more clubby vibe now, with electronica influences", he says. When it comes to album sales, he looks to another Swedish pop export, Robyn. "It was Robyn who inspired me to release my album in two parts. Saade Vol. 2 is due for release in november. I think that's the future", he summarises, "If you're going to release music, then you should release a lot of it at the same time. That approach really appeals to me", he rounds off with, ending his interview on a high note and giving his fans much to look forward to in the coming months.