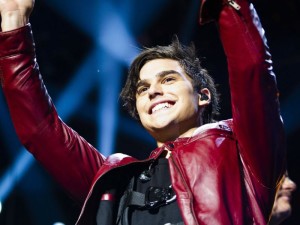 One of the most memorable elements of Eric Saade's stageshow was when he kicked the glass panes of the cage surrounding him on stage, causing them to shatter. While the votes poured in during the final of Melodifestivalen, Eric had to receive treatment for a shard of glass in his eye.
Although risky, Eric still wanted to use the same effect on stage in Germany but it was highly uncertain whether he would be given permission or not. After much toing and froing, Swedish broadcaster SVT announced on Wednesday that Eric will indeed be allowed to use the spectacular effect of not just one, but two glass cages on stage during the performance of Popular. The breakthrough came when the German production team gave the green light following weeks of intense negotiations. SVT had to satisfy all safety issues that the production team had; there were concerns that shards of glass could injure those in the audience sitting closest to the stage. Another concern of the production team was the logistical aspect of things, with only 45 seconds between each act, in which time they have to clear all glass fragments off the stage before the next artist enters the stage.
The solution was costly, but spokesperson Christer Björkman claims that SVT has nevertheless managed to stay within their budget. Eric's dancers will roll huge panes of glass onto the stage. The cage that will explode towards the end of the number however, will be transported onto the stage by a truck which won't be on film. Christer goes on to say that "Eric's glass cages actually cost just as much as Anna Bergendahl's light wands or Malena Ernman's ice sculptures". Furthermore, Christer can't sing the praises enough of the German production team, saying that they have been flexible throughout the planning process, focusing on possible solutions to the requests of SVT and Eric.