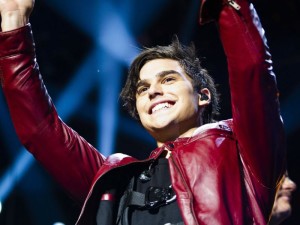 As we all know, young Eric Saade won the hearts of the Swedish public with his catchy entry Popular last month in Globen. Many say that the choreography of his number was just as decisive for his triumph as the song itself. But clouds are now gathering on Eric's horizon mere weeks before the contest in Germany.
It has become known that four of the five dancers who accompanied Eric and contributed to his dazzling show have been given the shock message that they won't be singing a reprise of Popular on stage in Düsseldorf. Saade and his management made the tough decision shortly after his victory at the Swedish final was a fact, and the reason behind their decision? The four dancers who have been shown the door apparently can't carry a tune!
Saade's manager, Tomas Lingman told Swedish tabloid Aftonbladet that: "Of course, this is not a situation that any of us wants, but we're forced to to confront it, given that there are other rules in the Eurovision. In Sweden, eight people are allowed to perform on stage at the same time, at Eurovision, it's only six." Lingman goes on further to explain that "in the Swedish final, you're allowed to have prerecorded backing vocals, not the case at the Eurovision Song Contest. It goes without saying that we simply have to have dancers who are able to sing, too."
Only one of the original 5 dancers will follow Eric to Düsseldorf, the remaining four being a completely new line up. Lingman also tells how the choreography for Popular will be adapted in order to fit in with the recent replacements, but is adamant that the show itself will still be a top notch one. One of the dumped dancers, Alex Jafarzahad was given the message yesterday an had this to say about the decision: "The most irritating thing is that Eric didn't win purely on his own merits. The dancers were responsible for getting at least half of the votes. We as dancers were always under the impression that if we won Melodifestivalen, then we would of course have accompanied Eric to Germany. But I wish him the best of luck nonetheless." Let's hope the newest additions to Eric's entourage give him the support he needs in those hectic two weeks in May.