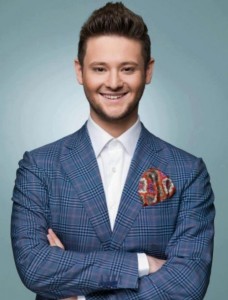 Eldar Gasimov has released his brand new single, The One.  He has composed the song with Johan Jämtberg and Mikael Gunnerås. This follows rapidly his recent Michael Jackson tribute release with Nigar Jamal called Music Still Alive.
Eldar Gasimov together with Nigar Jamal (better known as Ell & Nikki) won the 2011 Eurovision Song Contest for Azerbaijan with Running Scared.  Eldar also went on to be a co-host of the 2012 Eurovision in Baku.  He has released several solo singles since the Eurovision success.
Now Eldar returns with the upbeat dance song, The One.  The song is composed by Johan Jämtberg and Mikael Gunnerås with Eldar himself.  Johan and Mikael wrote This Is The Night for Kurt Calleja for Malta at Eurovision in 2012. They have also worked with some Junior Eurovision acts such as Eric Rapp (JESC 2011 Sweden) and Lerika (JESC 2012 Russia) as well as many other artists writing and producing music.
You can see the official promo video for The One below.  It is directed by Jeyhun Ibrahimoglu, the visual director is Vusal Hasanov and the director of photography is Rauf Gurbanaliev with visual effects by Hossein Mahdavi and art direction by Azer Ibrahimoglu and produced by Zahra Badalbeyli.

You may also like to read: