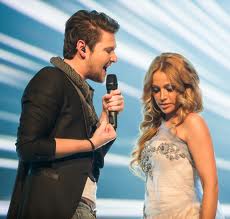 After their triumph at winning the 2011 Eurovision Song Contest, Ell & Nikki, are back together and have just released their new single. The song is a tribute to the life and music of Michael Jackson. It entitled, Music Still Alive (Michael Jackson tribute).

Ell & Nikki rocketed to victory in the 2011 Eurovision Song Contest in Germany with Running Scared. They have since gone on to achieve much solo success.
In 2012 Nikki (Nigar Jamal) released her debut album, Play With Me. The first song from the album to be a single was Crush On You and this was followed up with a much acclaimed duet with the 2008 Eurovision winner, Dima Bilan. The song was called Come Into My World.
Ell (Eldar Gasimov) released his first solo single after winning Eurovision in January 2012. This was called Berlikda nahayat. This was followed up with the song, I'm Free. In the summer of 2013 Ell released a new solo song, Heartbreaker. Eldar also went on to be one of the hosts at the 2012 Eurovision Song Contest in Baku.
Now Ell & Nikki are back together once again with Music Still Alive (Michael Jackson tribute). The music is inspired from one of Jackson's biggest hit, Human Nature. Lyrics are by Ell and the music is by Isa Melikov.
You can see the official video for Music Still Alive below.

You may also like to read: