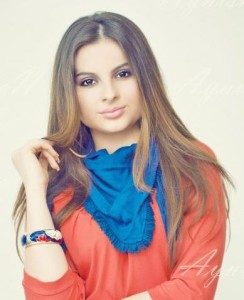 Aynishan Quliyeva was a finalist at the 2011 Azerbaijan national selection.  She has just released a new song called Her Verde with PRoMete.  The song is a slow piano r'n'b song with some rap and ethnic influences.
Aynishan Quliyeva is a popular singer in Azerbaijan.  She was born in 1992 and is the daughter of the famous Azeri singer Aybeniz Hasimova.
Aynishan participated in the Azerbaijan selection for the 2011 Eurovision Song Contest.  She won her semi-final by a far greater margin than any of the other singers who qualified that year.  Eventually she lost out to Eldar & Nigar who went on to win the whole contest with Running Scared.  
Aynishan performed several songs en route to the Azeri final in 2011 including a cover of Sweet People by Alyosha (Ukraine ESC 2010).  You can see her performing Sweet People below.
You also see the lyric video for  her new single with PRoMete, Her Verde, below.
You may also like to read –