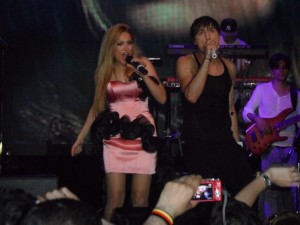 Two former winners of the Eurovision Song Contest, Nigar Jamal (2011) and Dima Bilan (2008) have got together to make a new song and video.  They performed the song together at the Euroclub in Baku on Wednesday evening.
Nigar & Eldar won the 2011 Eurovision with Running Scared and Dima Bilan won with Believe in 2008.  Together they launched the new song here in Baku during the build up to the 2012 Eurovision Song Contest.
Dima performed a concert with a live band in the Euroclub and performed many of his hits.  Nigar also performed some new songs.
Dima and Nigar then went to the second dress rehearsal of the second semi final of the 2012 Eurovision Song Contest where they are both involved in the interval.  The last five winners of Eurovision will perform.
The song is called Qucaqla məni.  The song is upbeat and catchy.  Look out for the official video here very soon.  
You can keep up to date with more information at Nigar's official website.