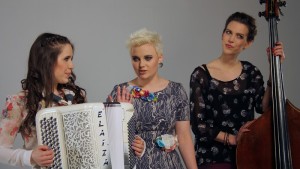 The group, Elaiza, from Germany have continued their preparation for the 2014 Eurovision Song Contest by recording the official video for Is It Right. The female trio talk in a special film about the making of the video and "how thrilled they are to be representing Germany in Copenhagen".
Elaiza consist of Ela Steinmetz, vocalist and pianist and songwriter, Yvonne Grünwald, accordion player, and Natalie Plöger, contrabassist. The group won the right to represent Germany after winning the national selection in March. But first of all they came through a challenging 'wildcard' competition where the won the right to take part in the final.
The band have just recorded the official video for Is It Right. In the making of the video film they explain that their music reflects a "background of Ukrainian/Polish influence and and Eastern European moods". They also say they were "delighted to receive the public vote from the 'wildcard' competition and of course for the grand final of the German selection". The girls talk about that they are thinking of their stage performance and outfits for Copenhagen. They also plan to enjoy their time in Copenhagen and especially on 10 May (the date of the Eurovision final). It is also an extra celebration for band member, Yvonne, as it is her birthday and "she wants to celebrate with a big cake".
You can read more about Elaiza at their official website. You can see the making of the video filem and the official video for Is It Right below.
You may also like to read –