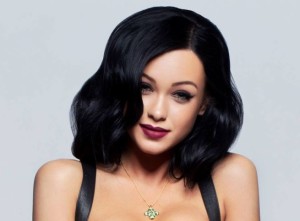 Maria Yaremchuk will represent Ukraine in the forthcoming Eurovision Song Contest. She will compete in the first semi-final on the 6th May with the song Tick-Tock. Maria recently spoke to EuroVisionary about her plans ahead of Copenhagen.
1. Welcome Mariya, first of all what can you tell us about you and how did you start with your singing career?
Music plays an important role in my life. I started to sing in my childhood. Having been born in the family of the Ukrainian tenor,  People's Artist of Ukraine,  Nazariy Yaremchuk, founder of the Ukrainian music tradition, I took over this music talent from him. At the age of six I attended music school №4 in my native city of Chernivtsi. In 2009 I graduated from the high school and entered the Variety Vocal Department of the Kyiv Circus and Variety Arts Academy. I started to participate in concerts since I was six. When I was seven I represented my region in various concerts and received the title of Voice of the Country.
2. What drowe you to submit a song and participate in the Eurovision Song Contest?
Eurovision has always been like a dream for me. I watched it on TV and supported our Ukrainian representatives. As you probably know it is not my first attempt to participate in Eurovision. The previous year I also took part in the National Selection with the song Imagine that I wrote myself. Since I've dreamt of Eurovision all the time, I decided to try again. Therefore this year I submitted my entry to the national selection again. I should say that one needs to make as much effort as they can in order to enter the Eurovision Song Contest.
3. What can we expect from you in Copenhagen? Any surprises to watch for on stage?
There are important things in the performance. It's about an idea, message of the song, of course we can't forget about the combination of folk tunes and we are planning some surprises up to the end.
4. In February you were in Malta. Any other promotional visits planned towards Copenhagen?
I understand the importance of promo-tours within Eurovision, so, I am planning to visit Amsterdam in April for the Eurovision in Concert.

5. What are your plans after the Eurovision Song Contest?
The Eurovision Song Contest is a huge event in my life. I've participated in two big contests: The Voice and New Wave and Eurovision for me is like a peak of my competitive music activity. And after Eurovision we are planning to  make a tour with concerts around Ukraine and probably abroad. It will be like a new beginning in my music career and in my life.
6. Finally, which question that I haven't asked you, would you like to ask yourself and what would be the answer to that question?
Question: What  could make you smile when you are sad?
Answer: When I am sad, I watch the cartoon The Simpsons that always makes me smile and laugh.
You can watch the official preview clip of this year's Ukranian entry below: