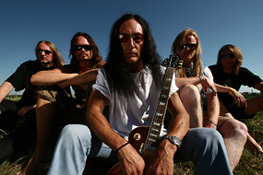 Three times Eurovision Song Contest participant Eiríkur Hauksson starts a mini tour in Russia tonight. Together with his Norwegian rock band Live Fire he will be performing in three Russian cities. The tour ends on Sunday.
Eiríkur Hauksson has participated in the Eurovision Song Contest twice for his birth country Iceland and one time for Norway where he lives. His latest appearance in the Contest was in 2007 where he didn't manage to bring Iceland to the final with the song Valentine Lost and in general he has had a bit of bad luck with his three participations. In 1986 he was a part of the trio Icy who was chosen as the very first to represent Iceland at their debut in the Eurovision Song Contest. They came fourth to last with the song Gleðibankinn. In 1991 it didn't go much better when he ended up as 17th out of 22 with the Norwegian group Just 4 Fun and their song about Mrs. Thompson.
Despite his bad Eurovision Song Contest history Eiríkur is still very active playing in two rock groups Ken Hensley's Live Fire Band and Magic Pie. He is also still active in various solo projects and as a songwriter for others.
Hensley's Live Fire Band consists of Ken Hensley himself on vocal, keyboards and guitar, Ken Ingwersen on guitar, Sid Ringsby on bass, Tom Arne Fossheim on drums and Eiríkur Hauksson on lead vocal, guitar and keyboard.
Live Fire's Tour schedule for Russia:
13th of November – DK Zheleznodorognikov, Krasnodar
14th of November – News Pub, Volgograd
16th of November – Oblosnoy DK, Vladimir