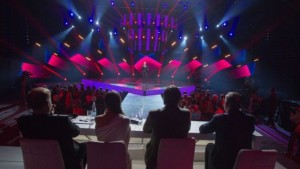 A new Eurovizijos show was held last evening in Lithuania where one more act was eliminated and eight out of the nine participants moved forward to the next stage of the selection process. Furthermore, the Lithuanian broadcaster LRT has released the sixteen potential Eurovision entries.
The national selection is in full swing in Lithuania and this Saturday in Vilnius took place a new Eurovizijos show where the nine participant acts performed worldwide hits of different genres. They were narrowed to eight according to the decision of the audience and the jury and Kristina Radžiukynaitė was eliminated from the list of potential entrants which means that the following eight will continue next week:
Vaidas Baumila
Mia
Monika Linkytė
Ieva Zasimauskaitė
Martynas Kavaliauskas
Vilija Matačiūnaitė
VIG Roses
Justinas Lapatinskas
Last night's show was the last one where we saw the candidates performing covers. As of next week, the eight remaining hopefuls will compete in a new phase of the national selection. Each of them will be singing two of the potential Lithuanian entries for the 2014 Eurovision Song Contest and the audience and the jurors will decide with their votes who is the candidate that should leave the competition. Seven candidates and fourteen songs will proceed to the next stage.
The sixteen competing songs have been released by LRT and they are available to be listened to on the official website of the broadcaster.
The titles of the songs are as follow:
Attention
Blowing Out Cobwebs
Breakaway
Dying
Worlds Apart
In The Rain
It's All About A Boy
It's Not Too Late
You Found Me
One
Take A Look At Me Now
Is This The Way (You Want Me)
Map
Last Date
New Beginning
You might also like to read: