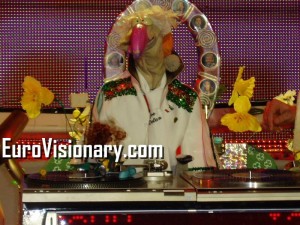 With what was expectedly the most controversial Irish national final ever now behind us,  we take an overview of the day's happenings at the venue.  We were there all day and got some interesting insider info.
It's the morning after the night before, well actually it's not, but it would have been if it hadn't taken eight whole hours to get from Limerick to Belfast yesterday. I think anyone who watched Saturday's RTE production, Eurosong 2008, will agree that RTE raised the level of their national final and put on a good show. 
For the first time since 2005 Ray D'Arcy hosted the national final. Ireland is a small country but the links that you could find at University Concert Hall in Limerick were just ridiculous.  Ray D'Arcy hosted a children's show with Dustin called 'The Den'.  Ray, as I said also hosted the first series of 'You're A Star' in which Darren Smith, who co-wrote Dustin's entry, was a judge.  Lisa Bresnan was also there, she was a final four contestant in that series of You're A Star competition.
Luckily enough there was no sign of John Waters, the lyricist of 'They can't stop the Spring' as RTE, in a bid to draw a line in the sand and start a renewed selection format, started the show with a VT making fun of most Irish entries since the turn of the century.  Something John will undoubtedly be talking to Joe Duffy about on 'Liveline' on RTE radio 1 this afternoon.  The intro was all very serious and would nearly be enough to make you think that RTE were serious about winning the contest once again.  That was until you saw the 2nd act vying for the Irish ticket to Belgrade take to the stage, but in a funny way this is how RTE think they will win and the most upsetting thing is they may well do.  As a journalist I was delighted to see such a fantastic story happening before me, as a Eurovision fan I was extremely upset to think that this is what we have to do to get attention in the ESC now and most of all as an Irish Eurovision fan I was torn completely to think that this song may well bring the contest back to Ireland but at the same time be the death knell of the contest.
When I arrived at the venue in Limerick I was greeted by the echo of the Turkey squawking his techno track filling the whole building.  Entering the auditorium I saw what will probably be the strangest sight that I'll ever set eyes upon.  Dustin in a shopping trolley with two heavily made-up divas, two half naked dancers and a over-sized leprechaun rocking out to a song that mentions the Eurovision as "Johnny Logan's gig".  The first set of rehearsals and sound checks went off without too much controversy.
The hall was nearly empty for the final dress rehearsal and the three panellists entered the auditorium to a muted applause. The panel impressively included two Eurovision winners and the former manager of two other winners.  Marija seemed to be in fighting mood and managed to insult each and every one of the competitors. She made a particularly edgy remark about a move that Marc Roberts did during his routine.  She made fun of it in the last dress rehearsal and even though Marc changed the routine she insisted on mentioning it during the live broadcast aswell.
As for Ray D'Arcy as the host, well, that one of the best aspects of the show apart from his inability to quieten the booing at times.  One particularly disgraceful moment came just before the results show went live on RTE.  Ray had just introduced the artists back to the stage and then brought on Dana and a large section of the audience booed for no apparent reason.  Ray made no attempt to stop it and Dana was booed freely at a Eurovision event for the first time ever!
But sour grapes don't make good wine, so I'll let that go, we all know Dana is a better person than to let that affect her.  Speaking of Dana, stay with EuroVisionary.com for a exclusive interview with the good lady herself.  She took some time out on Saturday evening to talk to us.
As Dustin prepared to give his first official interview as Ireland's 2008 ESC representative to Ryan Tubridy, Darren Smith was telling people that "after the seven minutes we took to write the lyrics we had a look at the music"
The after party thrown by RTE was an added bonus to the fantastic show, free drink and good company ensured the night eased gently into Sunday morning.  Talking to Donal Skehan's parents it was blatantly clear that they were disappointed.  I commiserated with Maya and I assured Ms. Slatinsek that there would always be a warm welcome for her in the Emerald Isle.  And as the dust settled and the debate raged on, many at the hotel were still shell shocked that a puppet had beaten the entry they were supporting.  Some had had the foresight to see it coming a mile off, sitting in front of Liam Geddes brother before the results show he stated that he wanted to Liam to win but that "it's Dustin".  The majority of relatives and friends that booed Ireland's winner into the ad break will still feel as if they were robbed but one thing is for certain, everyone involved will get a lot of media attention from this gig and it can't harm their careers.
In my view
This is either going to be a complete flop, or is that 'flap', or a winner.  What's the best result for Ireland, well I haven't exactly decided for certain yet!

The opinion expressed in "In my view" are those of the author and are not necessarily the one of EuroVisionary.com.