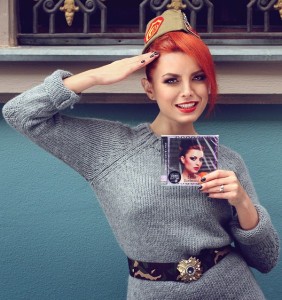 Elena Gheorghe, who represented Romania at the Eurovision Song Contest in 2009, has, after several international releases, put together a special album for her fans in Japan to thank them. The album dedicated to the Japanese fans will also include a cover version of a local hit.
The Balkan girl, Elena Gheorghe, might be remembered as the representative of Romania from the 2009 Eurovision Song Contest with the song the Balkan Girls. So far everything has gone quite well in Elena's career after the contest. She has released several albums and singles and given numerous concerts in many countries. 
This summer has been quite busy for Elena Gheorghe as she got married and continued her work non-stop after a short honeymoon. Besides concerts given in Turkey, Mexico, Span and in Romania; she also worked on a new album.
In October Elena sailed to a distant city in Asia, Osaka to give a concert. Osaka is one of the cities in Japan which Elena enjoyed quite much – so much that she decided to make a special album release for this country.
The album, Disco Romancing, will include fifteen songs and a bonus song; the songs will be performed in English. The title single has previously been released in Europe. On the new album she also sings an English cover of the Japanese hit, Roman Hikou as a bonus act. The other songs on the album belongs to Laurentiu Duta, Ionut Radu and David Deejay. 
On her website Elena spoke out about this album: "I'm very excited, especially since I never thought I'd get to release an album there. I'm very curious, this is something new to me. Besides concerts, several TV appearances and radio, I wanted to visit as much and of course to enjoy and experience their culinary madness."
The album can be found in the stores in Japan, but also bought online via iTunes. Below you can watch the videoclip of Disco Romancing that was recorded during the previous edition of this single release.
You might also want to read: