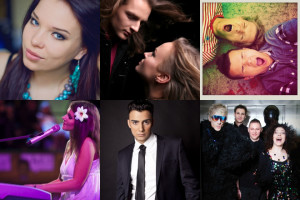 The second semi-final was held this evening from the Palladium Concert Hall in Riga and the line up for the final of Dziesma 2013 is now complete. Six of the songs made it through to the final to join the six acts that qualified in last night's first semi-final.
Twelve acts took the stage this evening in Latvia hoping to qualify for next Saturday's final. Last night, six songs made it to the final of Dziesma 2013 from the first semi-final and the same number of places in the final was up for grabs tonight.
The songs:
1. Aiwink – Now Or Never (written by Aleksandrs Rjabčuns)
It
is a pop-rock song with a strong chorus, a good beat and electronic
elements used in the right measure that totally deserves a place in the
final. If anything stands out in this song is the vocal timbre of the
female lead vocalist. She has a very peculiar and flashy tone. Besides the four band members (the lead singer, two guitarist and a drummer) they also had two female singers on stage. They all were dressed alike in white shirts and black trousers. The two guitar players had a simple but energetic choreography and they moved very well across the stage.
2. Ieva Sutugova – Cold Heart (written by Jānis Miltiņš and Ieva Sutugova)
This
song is retro to the extreme with very strong influences from the jazz of the 40s. It is fun but a bit out of context for a Eurovision
competition even though it is very well produced and it has its charm.
The song has many ups and downs with some notes that require a great
vocal technique but it is not a problem for Ieva as she is a great
singer and she delivered it perfectly. She also has a good stage presence and her staging was very
theatrical interacting well with the band. She wore a cabaret style red dress and the staging seemed inspired by that style of music. With her there ​​were a guitar player, a cellist, a drummer and a piano player. The stage lighting was red to match her outfit.
3. Marta Ritova – I Am Who I Am (written by Marta Ritova)
This
is a song full of surprises. It starts very softly, just piano and voice,
and then it becomes traditional dance pop but it ends up as a powerful teen
pop-rock song. She began her performance back to the audience sitting at piano which
was decorated with many lights. Mid way through her ​​performance, she
abandoned the piano and walked to centre stage. The song is well-balanced with all instruments getting
their share and varies quite a lot in tempo as well. She has got a sweet
voice and the contrast with the melody is very interesting. She wore a black dress and she was alone on stage which was lit in dark shades and on the LED screens we could see a starry sky.
4. PeR – Here We Go (written by Ralfs Eilands and Arturas Burke)
They
are already qualified for the final with Sad Trumpet but this song does
not sound like what we heard yesterday from them. It is much more
commercial with a mixture of pop, rock and hip-hop that works really
well with their style and of course their audience. They were dressed in bright black and silver costumes and they had a very effective and energetic choreography. They are very
charismatic and also have a legion of fans who will vote for them so it
would not be surprising to see them singing twice in the final.
5. Dāvids Kalandija & Dināra – Fool In Love (written by Jonas Gladnikoff, Camilla Gottschalck, Christina Schilling and Liza Petersen)
After
a good result last year in partnership with Samanta Tina, Dāvids
Kalandija is back to Dziesma in a duet this time alongside Dināra. The
song is quite different from last year's and from the first chords we
may suspect the names of the songwriting team involved. It is a fabulous
love pop song which is very well sung and it has that quality of being
instantly memorable. Dināra wore a black gown with white flowers embroidered and Dāvids was dressed all in black with a velvet jacket and shiny trousers. The centre stage was occupied by a couple of dancers who at times stole the limelight from the singers. Both of them were stood on either side of the stage and only came together at the bridge of the song. At the back of the stage were two male singers dressed in black.
6. Mārtiņš Ruskis & 4 Vēji – Joey (written by Eric Anjou and Peter Svensson)
The
best bit about this is the lively beat and a delightful melody line
with a chorus that is fun and it is one of those songs you can never get
enough of. Maybe the voice of the lead singer does not always fit it. This
does not mean that he sings badly. On the contrary, he sings really good
but his voice sounds more like a rocker than a folk singer. Mārtiņš was wearing a black jacket, purple shirt and gray trousers and he was playing a pink guitar. The remaining members of the band were two female singers who were situated behind the lead singer dressed in very elegant outfits. On the left side of the stage there was a male baking singer dressed in a gray suit. At the end of the song they all came to centre stage which made them seem more like a band.
7. Andris Kivičs – Hey! Hey! (written by Andris Kivičs)
This song is an up-tempo track that brings nothing special to listeners. The melody has an atmospheric intensity but it is not very varied without difference between the verses and the chorus. Andris was dressed in a black shirt, white tie and white pants and he was
playing a black guitar. Besides this guitar the other instruments that
we saw were a drum and bagpipes played by two men who were also dressed
in black and white. In fact, the bagpipe is the prominent element in this song. On stage there were also two female singers dressed
in black who remained during the whole performance in the back of the
stage until the end when they came near to Andris. Surely he will get a place in the final but it is hard to see a winner here.
8. Pieneņu Vīns – The One (written by Jurijs Koškins and Evilena Protektore)
This
song is quite different from what we listened to yesterday but it has
the same high quality. It starts as a mid-tempo ballad but when the
chorus arrives the heavy guitar sound makes the song becomes a
different one. This is the best part of the song and it is what draws
the listener's attention. The lead singer wore a beige dress and the other members of the band
(two guitarists, a keyboardist and a drummer) were dressed in dark pants
and white shirt. They held the same position on the stage during the
entire performance. The stage lighting was dark with flashes of white
light. They were away from the classification last
night but they should get a place in the final tonight.
9. Niko – One (written by Johnny Andersson, Hitmanic, Michael James Down and Hanif Sabzevari)
This
is just another male electro pop performance with a heavy electric bass
beat like countless others we have heard in recent years where the lack
of creativity is visible. It does not bring any innovation and gives us
the impression that we have listened to this song before and indeed we
did but with another singer and different lyrics. He and his three male young dancers were dressed alike in black suit, white shirt and black tie. The choreography was exactly what we could expect from a song like this: energetic and synchronized. Niko has a nice vocals
and great dancing skills. Halfway through the performance appeared on stage two drums and he showed us that also he has talent for percussion. 
10. Framest – Let The Night Belong To The Lovers (written by Erik Anjou)
It is a classic mid-tempo ballad sung by a quartet. There is something in the harmony of their voices that fails to fit. They have lovely voices and they sing with real passion and emotion but the female and male voices are mismatched in some parts creating a sound that is not very pleasant. They all were dressed very elegantly, the men in black suits, white shirt and bow tie and the women in long black dresses with various jewelry. Their staging consisted of walking around the stage alternating their positions.
11. Kristīne Šomase – Phoenix Fly (written by Mathias Kallenberger, Andréas Berlin, Filip Lindfors and Anton Malmberg Hård af Segerstad)
This song blends elements from R&B ballads, an electronic base and influences from the late 80s. It can seem a lot but all these elements fit really well with a melancholy tone and the subtle echo effects are beautiful. She wore a very peculiar outfit that seemed to be made with sheets of paper. She was accompanied by three dancers and two singers, all female, whose attire was similar to hers. Beneath the sheets of paper they wore other costumes that were revealed later. Kristīne's costume was a long dress yellow, red and pink and the dancers dresses were blue and yellow. The stage ended with all those pieces of paper on the floor that made it appear to be dirty.
12. Rūta Dūduma – Here I Am (written by Patrik Öhlund and Madelene Hamberg)
The Swedish composers have invaded the Latvian selection. This is a nice up tempo ballad very well produced whose intro starts with a very classic tune. It is the kind of song everyone would associate to Rūta even without hearing her awesome voice. Her stage presence is great. She wore a long dress with black and white print and a red belt. She was alone and she held her position at center stage throughout the whole performance perhaps to let the wind machine had its greatest effect.
The show:
It started at 21:25 local time (20:25 CET) and like last night, our host was the actor Mārtiņš Meiers and it was broadcast live from the Palladium Concert Hall in Riga whose scenery was the same we saw yesterday.
The opening act tonight was provided by the co-hosts of the show, DJ Mad Ant. After that, lots of people from the audience took to the stage dancing the well-known choreography of the world hit Gagnam Style.
The dynamics were the same as in the first semi-final. Participants came into the set through a passageway flanked by the standing audience and headed to the green room where they had to wait until the time of their performance.
The performances were held one after another with a few interruptions for commercial breaks. Each of the singers were presented themselves before their performance through a video where they were performing activities of their daily living such as drinking coffee, eating in a restaurant, giving a concert or working in a recording studio.
The guest performances took place after all the candidates had presented their songs and once the televoting had started. Guest artists were Triānas Parks singing I Like, the rock band Tumsa with Atduries, last year's Latvian representative Anmary singing the popular Azerbaijani folk song Sari Gelin and Miks Dukurs & Paula Dukure performing the song Coo Coo.
The results:
It was determined by a 50/50 mix of the votes of the nine members of the jury and public televoting which began after all the songs had been performed and it was opened for twenty minutes.
At the end of the show the result was announced with the combination of the votes without knowing whether the winners had been selected by the votes of the audience or the jury.
The winners' names were written in envelopes with vinyl disc shape that the host was reading one by one and they were: Ieva Sutugova, Dāvids Kalandija & Dināra, Per, Marta Ritova, Niko and Pieneņu Vīns.
Latvia at the Eurovision Song Contest:
It debuted in 2000 being the band Brainstorm its first entrant achieving the third place with My Star and only two years later, Marie N won the contest with I Wanna. In recent years, it has not been as successful as it was in the early 2000s and since 2008 with Pirates Of The Sea, Latvia has not qualified to the final of the Eurovision Song Contest achieving its best result last year with Anmary who was 16th in the semi-final.