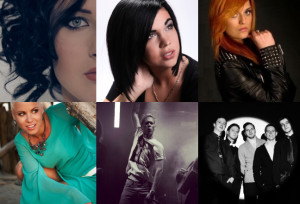 The first semi-final of Dziesma 2013 took place this evening. Twenty-four songs are fighting for the honour to represent Latvia in Malmö and tonight, the first twelve hopefuls presented their songs to a big audience at the Palladium Concert Hall in Riga.
Latvian Television (LTV) decided to change the selection format for 2013 allowing foreign songwriters to enter their songs (however, the performers on stage still have to be Latvian citizens or residents of Latvia) and a record 122 songs were submitted. An expert jury picked the twenty-four finalists and the procedure consists of two semi-finals where six songs out of twelve will reach the final. This evening it was time to see the performances of the first half of the candidates.
The songs:
1. Liene Candy – Higher And Higher (written by Christof Straub)
We start with an eurodance song which would have succeeded in the mid-90s, but
still nowadays it could get the support of a legion of fans if makes it
to the final. The structure of the song seems a bit a mix of a couple
of completely different tracks which does not seem well built. She wore a yellow dress with matching shoes which highlighted with the blue lighting of the stage. She was alone on stage throughout the whole performance and, despite she has an energetic presence, that made the stage look a little empty. She has
got an awesome voice but perhaps the song has more high tones than it
should.
2. Fox Lima – Tirpini (written by Alise Ketnere)
Here
there is a song which has a great chance of winning this year's
Dziesma. It is an enigmatic and mysterious electro-folk song which,
despite having almost no lyrics (barely three verses, two in Latvian and
one in Latin), there is something intriguing in the melody that holds
the listener. The staging was completely choreographed and she was well synchronized with the three female dancers who accompanied her. She wore a shiny gray dress and also the dancers. At the back of the stage were two backing singers who almost went unnoticed to the eye but not the ear because they compliment Fox's voice really good.
3. Dominic Okolue – Good Woman (written by Dominic Okolue)
We
continue with a song that no one would expect to hear in a national
selection from Latvia. Since he is Nigerian, it can be described as a
ska style song with strong African and reggae influences. He wore a brown jacket, white shirt and jeans. With him on stage there were two female backing singers and a DJ. It is worth to
listen to that kind of tracks in a Eurovision preselection show and it
will be surely prized by its musical diversity and will please diverse
audiences however, this song has little chance of proceeding to the
final of Dziesma.
4. Antra Stafecka – When You Are With Me (written by Schillebeeckx Raph, Verresen Karen and RF Smith Bruce)
The
first notes of this melody reminds of the soundtrack of a western
movie. She has a lovely warm voice and great interpretive skills. The
effortless projection of her voice is immediately appealing as the
heartfelt sensitivity and extremely musical phrasing. She performed ​​a very sexy staging. Her outfit consisted of a white hat (which she took off to mid-performance), a white shirt, black shorts and black boots. With her there was a very attractive male dancer dressed in black with whom she flirted throughout the whole performance with a very sensual choreography that sometimes could remember a tango. If anything is clear is that she can dance beautifully without neglecting her voice at any time.
5. Olafs Bergmanis & The Random People – Never Let Me Go (written by Jānis Polis)
This
is one of these songs that stand out for its originality and it is
rather catchy. The lyrics are simple and, although the song does not
demand a big vocal effort, it was very well sung. The lead singer wore a dark gray vest, grey shirt and black trousers. The other members of the band were two keyboard players who at the end of the song also played the trumpet, a guitar player who at the same time was the backing singer, a violinist (the only woman) and a drummer all of them dressed in casual clothes. The
string instruments are the highlight of its quirky melody. The end of the song is
quite chaotic with all their voices mingling, but it grabs you.
6. Headline – Love (written by Mārcis Rēdmanis and Lauris Busulis)
This
is a great pop-rock band and the lead singer's voice is crisp and
professional but not a standout (and pronunciation is not his strong
point either). The beat of the song sounds quite familiar and it is a
bit flat as it stays the same throughout the entire three minutes. The band consists of two guitar players, a keyboard player and a drummer. They were dressed very elegant in white shirts, vest, tie and black trousers. They had a simple choreography but with very effective movements. In addition, they knew how to use the great space of the stage.
7. Pieneņu Vīns – Better Than You (written by Jurijs Koškins and Evilena Protektore)
This
is a fun disco-funk song with strong influences from the 70s, but at the
same time it has a breath of fresh air. It has a very pleasant melody
in which the woodwinds play a key role. The lead singer's voice is
spellbinding and it fits perfectly the style of the song. She wore a long black dress with a big slit up the side and a golden crown. The band was composed by two guitar players, a keyboard player, a drummer and a trumpet player all of them dressed in casual clothes.
8. Ivo Grīsniņš Grīslis – Give Me A Try (written by Ingars Viļums)
This
is a well-produced soft pop-rock song with electronic elements. The
chorus is quite repetitive but without becoming annoying. Ivo gave a
dynamic and soulful performance but his voice was a little weak. He was dressed all in black with a gray bow tie that he wore unleashed
around his neck. He was accompanied by two bass players, a keyboard
player and a drummer. The stage lighting reminded of a starry sky. With some tweaking this could really be
a finalist.
9. Samanta Tina – I Need A Hero (written by Johnny Andersson, Michael James Down, Marcus Fernell and Beatrice Eriksson)
This
is a great heart wrenching song with a big powerful chorus that will be
a finalist for sure. Those who enjoy the ballads will instantly fall in
love with it. The lyrics, Samanta's voice and the melody fits so
perfectly that you find yourself joining her in reaching that very high
note at the end of the song. Her voice is superb adding an extra layer
of emotion to the song. She held the same position at center stage throughout the whole performance. She wore a long white dress that arguably looked more like a wedding dress. Next to her there were three female backing singers dressed in black. On the LED screens we could read in white letters on a blue background the word Hero. This is the best of what we have heard so far
and maybe the best of all night.
10. Liene Matveja & Baiba Reine – Love Responder (written by Edgars Viļums)
This
gentle up-tempo song reminds of one of that songs for teenagers with a
melody repeated endlessly and it does not bring anything new. The two
voices are quite different, one is serious and husky while the other is
more clear and high-pitched, but they complement each other very well
and that is the strongest point of their performance. Their staging began with they two flirting with two guys as if it they were on a date. Later, the two boys became the backing singers together with another girl, all of them dressed in casual clothes. Liene and Baiba had a little choreography during the chorus but it seemed a little forced. They were dressed in a brightly colored blouses (blue, green and pink) and black skirts.
11. Sabīne Berezina – Upside Down (written by Filip Lindfors, Bertel Österberg and Kristoffer Eriksson)
This
is a dance pop song that you can either love or hate. It starts off
promisingly enough and the chorus is quite catchy, but the whole song
lacks of originality in as much as we all have heard thousands of similar
songs. She has got a great voice but she gets out of tune sometimes
though. The staging consisted of a very energetic choreography
that sometimes made her lose her breath. She wore a yellow jacket with
feathers on the shoulders, a pink shirt and jeans. She was accompanied
by three female dancers dressed in bright colors and two singers who
were on either side of the stage dressed in bright yellow dresses.
12. PeR – Sad Trumpet (written by Ralfs Eilands and Arturas Burke)
PeR
is back to the Latvian national selection with this jazzy ballad that
is unlike anything we have heard before from them. The
instrumentation is nice though melancholy and whiny. The title sums this
up perfectly and the trumpet, which dominates the song, is the only
thing that could make it memorable.They were dressed in casual clothes. The lead singer was wearing a grey shirt, black tie and jeans and his colleague complemented the outfit with a black vest. Towards the end of the song, they chose a girl from the audience to dance with them. They have a great fan club and they
are sure among the favourites of the young audience who will support
them.
The show:
It started at 21:15 local time (20:15 CET) and it was hosted by actor Mārtiņš Meiers. It was staged live from the Palladium Concert Hall in Riga. The stage was square and it was surrounded by huge screens that reached to the ceiling.
The opening act consisted of a performance by a group of ethnic music and percussion. Just after, the participants were coming into the set along with their backing singers and dancers. The venue was crowded and the standing audience showed their support to their favourite artists by cheering and dancing.
Each performance was preceded by a video of each of the singers presenting themselves in a mall. At the same time, they were looking for some shoppers or people at the street and let them listen to their songs and then asked them for their opinion.
While the audience had time to vote we could enjoy the guest performances of Astro'n'out, one of the most successful indie-rock bands in Latvia, the Belgian Lara Bellerose, the co-hosts of the show DJ Mad Ant and also a choir from Riga.
The results:
Voting began after all the songs had been performed and it was opened for twenty minutes.
The top six, chosen by 50% televoting and 50% jury votes would proceed to the final and the lucky ones were: Antra Stafecka, Samanta Tina, Sabīne Berezina, Liene Candy, PeR and Headline.
The second semi-final of Dziesma 2013 will take place tomorrow and the format will be the same as this evening, twelve songs competing with six acts qualifying for the final that is scheduled to take place in the Juras Varti theatre house on February the 16th.
Latvia at the Eurovision Song Contest:
It debuted in 2000 being the band Brainstorm its first entrant achieving the third place with My Star and only two years later, Marie N won the contest with I Wanna. In recent years, it has not been as successful as it was in the early 2000s and since 2008 with Pirates Of The Sea, Latvia has not qualified to the final of the Eurovision Song Contest achieving its best result last year with Anmary who was 16th in the semi-final.