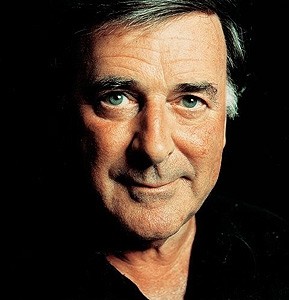 Just like the eulogy at a funeral Dustin gave Terry a good send off with his masterful use of the English language.  He also took a little time to assure the bosses at the BBC that he was more than ready to take he reigns from the Limerick man.
Dustin was never one to pull any punches and it looks as if little has changed.  With a title like 'Wo-gone but not forgotten' his article in Friday's Irish Sun was set to be a tongue in cheek piece.  He managed to quickly out do himself by equating Wogan's decision to quit the Beeb's Eurovision coverage to the deaths of both Elvis and John Lennon.
This year's host city, Belgrade, was not going to get away without a slagging either.  Talking about the nights he and Terry spent "painting the town red" he went on to say that that was "just as well as I don't think anyone had bothered painting Belgrade in years.".
He finished off by making his position clear on the possible job offer.  He said he wouldn't accept the job while Terry was still in the hot seat but now that he'd left of his own free will that he (Dustin) was ready to take over.
The smart money on Wogan's replacement in the last few days has been either Graham Norton and Jonathan Ross.  Graham Norton already has a Eurovision link in presenting the first Eurovision Dance Contest and is set to do so again this year. If Dustin has his way Graham will be ursurped by his fellow Irish Turkey?