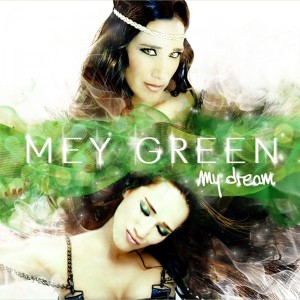 Mey Green, whose real name is María López, was among the candidates to represent Spain at the 2011 Eurovision Song Contest and this year she was one of the backing singers for Pastora Soler. She has been working for years to create the album she aimed for and it is finally ready to be listened to.
The title of her brand new single sums up it perfectly: My Dream. And this is Mey Green's dream but also the dream of her fans. She wants that the album, on which she has been working for many years, finally reaches her fans and listeners and for that she just needs a deal with a record label to release it and her dream will become true. Now she is open for any interesting proposals to see the birth of her brilliant debut album.
This album is the real essence of many years of hard work and it has not been easy to put everything together, piece by piece, note by note but the months of creativity were paying off. A shape was slowly taking form creating a concept and the result was growing into this, her debut album.
Mey has been totally focused on bringing out the best of the songs and on what she was able to create. She was working a lot with the lyrics and combining the sound and the arrangement into an expressive combination. She has chosen all the tracks for the album and she is really satisfied with the choices she has made. There are slow, mid and high tempo songs and the key to it all was to find new paths, sampling new sounds, finding the perfect beats and vocal arrangements.
She has been in the music business since she was 8 years old and being just a kid she had the privilege to perform together with the popular Spanish singer Alejandro Sanz in a big venue in front of a large audience. At that moment she realized that she wanted to be a singer. That was her dream and she was not going to let go of it. 
After winning a popular karaoke television contest she had the chance to record her first single which was included on a compilation album together with the hits of the most recognized artists of that time. She has also been working as a backing singer with some of the most prominent Spanish singers like Rocío Jurado or Bertín Osborne and she was one of the members of the gospel choir Inside Voices. In 2008 she participated in the Spanish version of The X Factor and she has been part of the cast of the musical We Will Rock You and Anne Frank's Diary. In 2011 she then tried to make it to the Eurovision Song Contest, something she managed this year, although as a backing singer for Pastora Soler. 
Now, she knows that it is time to bet on her own project. She has been working hard and she has created the perfect album for success. The single that gives its title to the album, My Dream, is available for download in digital stores and its lyrics talks about how her career has been: a constant struggle with ups and downs that have given her the strength to fight for this album.
In the video below you can listen to Mey singing some of the songs of this new project and also remember her performance from the Spanish national selection for the 2011 Eurovision Song Contest where she sang a version of Anabel Conde's Eurovision entry Vuelve Conmigo.