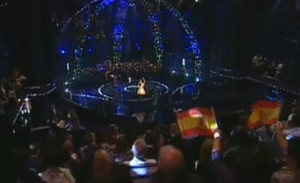 Spain just finished their first heat of Destino Eurovisión in the search for who can wave the Spanish flag in Düsseldorf. Out of the 12 acts presented, David Sancho, Auryn, Lucía Pérez, Gio and Da Igual managed to convince the jury and audience to advance to the national semi-final, but for the seven others, the journey ended here.
This year's Spanish selection format is markedly different from other years and expectations were high. Tonight's show was a mix of different kinds of artists and styles and has been an amazing show, very charming for Eurovision fans. We have become better acquainted with the artists aspiring to bring Spain to the top of the scoreboard in the 2011 Eurovision Song Contest and we were also entertained with some ingenious versions of Eurovision hits.
The songs:
Song number 1: David Sancho – Estando Contigo (performed by Conchita Bautista in the 1961 Eurovision Song Contest representing Spain)
David Sancho is an actor and singer bearing a resemblance to Michael Bublé. He is a well-known face to the Spanish audience after appearing in a numerous TV series in various character roles. He belongs to a family with a lot of artists (his father and two brothers are musicians) and he wants to go to Düsseldorf because he is feels passionately about the Eurovision Song Contest.
On his performance tonight he has done a tribute to recently deceased Spanish composer Augusto Algueró. He has demonstrated its potential as a crooner performing his particular version of the song Estando Contigo. On the LED screens in the background, we could watch some images of Conchita Bautista's perform in the 1961 Eurovision Song Contest. He is helped on stage by three dancers dressed completely in black. He looked very smart, wearing a shiny grey suit, white shirt and black tie, as well as very confident on stage. David is quite good but I think that he is more an actor than a singer. The main problem here is David's vocals, seeming quite weak.
Song number 2: Roima Durán – Wild Dances (performed by Ruslana and winner of the 2004 Eurovision Song Contest representing Ukraine)
Roima Durán is a nick name for Rocío Jiménez, a young woman from Málaga, with a very positive and cheerful attitude, who loves to dance while she is singing. Her parents encouraged her to apply for the selection process and they are making a spectacular promotional campaign. She hopes not to disappoint them.
The performance started with Roima Durán and her five dancers in the middle of the stage and it continued with an amazing choreography. She was dressed in a tight black dress. On the LED screens in the background, we could watch some images of Ruslana's perform in the 2004 Eurovision Song Contest. She looked a little bit nervous but her vocal prestation was fine although in places she just sounded tired. At the end of the song, all dancers had fallen on the floor and Roima finished her performance with her arm up like a winner.
Song number 3: Da Igual – Bailar Pegados (performed by Sergio Dalma in 1991)
From Tarragona comes Da Igual, a pop group consisting of Quique German, Alex Pouguet, Wences Sánchez, Ferrán Aguiló and Dani Catena. Their first self-produced album called Injustificable has been launched succesfully on the independent market and they have won some band competitions. They are currently working on their new nationwide tour and their second album. They have a youthful and carefree air and they said that they want to go to Düsseldorf to win the hearts of the European people. Will they achieve it?
Their performance tonight shown us a very original version of Bailar Pegados with drums and guitars. On the LED screens in the background, we could watch some images of Sergio Dalma's perform in the 1991 Eurovision Song Contest. The band has one singer who is wearing a red shirt and black jeans, three on guitars and one on drums. Their general appearance is quite casual but they looks fabulous. Some of the singer's movements cause excitement among the girls in the audience. We must emphasise the singer's vocal skills, his intonation, as well as his phrasing, his control of the notes and its refinement.
Song number 4: Lucía Pérez – No Tengo Edad  (performed by Giglíola Cinquetti and winner of the 1964 Eurovision Song Contest representing Italy)
Lucía Pérez is 25 years old and she ihas been singing since she was a child. She has competed in some children's TV shows and music festivals being the Spanish representative in the 2006 Festival Viña del Mar with the song Qué Haría Contigo where she achieved second position. She has recorded four studio albums and, curiously, the last one is entirely in Galician.
The stage was in complete darkness when the song began. She entered the stage wearing a simple pink dress. She has choosen the Spanish version of Non Ho L'Età, an interesting choice, but her voice sounds so fragile sometimes. She has a very sweet voice. Lucía's tonight presentation was extremely static with very little use of the stage. The assessment of jury was very positive.
Song number 5: Auryn – Fly On The Wings Of Love (performed by The Olsen Brothers and winner of the 2000 Eurovision Song Contest representing Denmark)
The five members of Auryn are: Carlos Pérez, Blas Cantó, David Martín, Daniel Fernández and Álvaro García-Gango. They are five young boys, aged between 19 and 22, who aspire to be the new teen band made in Spain and they are like a breath of fresh air. About their nickname, Auryn is a mystical talisman in The Neverending Story, a simple magical object that grants wishes. Their strong point is their vocal harmonies, and they are presently working on their debut album. Their style is similar to other bands such as McFly, Coldplay or D'Nash. For Eurofans, Daniel is a familiar face because he represented Spain in the Junior Eurovision Song Contest 2006 with the song Te Doy Mi Voz.
Their performance tonight seemed pretty professional. The band entered on the stage sitting and they were very well received, with the audience clapping and cheering. They were dressed for the occasion wearing dark trousers, white shirt and grey vest, jacket or sweater different for each but similar. On the LED screens in the background, we could watch some images of The Olsen Brothers' perform in the 2000 Eurovision Song Contest. The presentation was very dynamic, with a good use of the stage and their voices complementing each other perfectly.
Song number 6: Las Miranda – Ding-A-Dong (performed by Teach-In and winner of the 1975 Eurovision Song Contest representing the Netherlands)
Patricia and Laura Ugarte are sisters. Years ago they started to sing together as backing singers to the big artists. Now, they want to live the great experience of the Eurovision Song Contest because, when they were two little girls, their dream was always to sing there and to be the winners.
They were the only duo in tonight's competition. Their voices complement each other perfectly and their coordination is quite naturally. The chemistry between the two young artists is evident and that adds up to this beautiful song. Their interaction with the four dancers on stage seemed forced in some way. They were dressed alike in a maroon corset and pink miniskirt.
Song number 7: Sunami – Gwendoline (performed by Julio Iglesias in 1970)
Sunami are a young quintet (three men and one woman) who are ready to win by a landslide. "We are strong, we are the revolution, we are Sunami!" is their motto.
They are the rockers of the night. Guitar, bass, drums and a sassy voice. They are dressed in black but they were slippers or colorful belts and two of them wearing funny shirts with drawings of strange animals for the occasion. They can converted a classic song like Gwendoline into a hymn for a party night, totally different from Julio Iglesias's performance in the 1970 Eurovision Song Contest that we can watch on the LED screens in the background. They have a youthful and carefree style.
Song number 8: Gio – Satellite (performed by Lena and winner of the 2010 Eurovision Song Contest representing Germany)
Sergio Bermejo, artistically known as Gio, was born in Madrid 20 years ago. He is a singer, actor, composer and producer and he started in the music business as a gospel singer in a choir. Among Eurofans he is known because he is one of the members of the group D-Vine, which was among the candidates in the 2008 national final, and he also applied in 2010 with the song Drama. Could it be third time lucky?
With his performance tonight of Satellite he has been the most transgressor one in the night. With Lena on the LED screens, he had no qualms about doing his own version of the song, totally different to the original one, with a new musical arrangement. Gio has sung some verses like a rap and with some references to La, La, La, the song performed by Massiel and winner in 1968 Eurovision Song Contest giving an adorable vintage touch to the song. He wears a shirt and shoes with many colors and dark pants and jacket. He also wears a red bandana tied around his neck and dangling a green colour cassette tape. His hairstyle also provides him an original look. He has four dancers on stage with an amazing choreography. The jury's valuation was extremely good. They were delighted with his performance.
Song number 9: Guadiana – Ne Partez Pas Sans Moi (performed by Celine Dion and winner of the 1988 Eurovision Song Contest representing Switzerland)
She is a Communications student whose life changed last year when she participated on a young talent TV show called Operación Triunfo. She reminds us of great ladies such as Celine Dion and Barbra Streisand, and she could definitely perform a great ballad in Düsseldorf.
Guadiana looks stunning with that shiny pink dress and her dark long hair. Her performance was strong and she gave the ballad a romantic and wistful feeling. Her voice is as if made for this song. Two dancers help to emphasise the romanticism of the song. The jury welcome Guadiana's performance.
Song number 10: María López – Vuelve Conmigo (performed by Anabel Conde in 1995)
María López is familiar to the Spanish audience because she had participated in a famous TV show. She has been working as a backing singer with some of the most prominent Spanish singers like Rocío Jurado or Bertín Osborne. In addition, María has been part of the cast of the musical We Will Rock You and Anne Frank's Diary.
The melody of the song sounds elegant and romantic, with María performing at a very high level. Her five backing singers stand together on the other side of the stage. She is dressed in an elegant grey dress. Her vocal skills are quite remarkable and everything in the performance contributes to give an outstanding overall impression and she has gained a lot of support from the studio audience.
Song number 11: Baltanás – Fairytale (performed by Alexander Rybak and winner of the 2009 Eurovision Song Contest representing Norway)
Under the name of Baltanás we find Antonio Francisco Castellano González, a singer from Seville who, as he admits, while he was watching the 1993 Eurovision Song Contest, he had the idea of representing Spain. Since then, he has been working to make his dream a reality and he has applied several times to participate in the Spanish national selection without much luck. However, on this occasion, he seems to be much closer to his goal.
His performance tonight offered no vocal surprises but he was quite confident. Baltanás entered the stage wearing a black jacket, black waistcoat, white shirt and dark jeans. The song started with a violinist. There was a choreography with his two sexy backing singers who were dressed in black.
Song number 10: Paula Marengo – Tu Te Reconnaîtras (performed by Anne-Marie David and winner of the 1973 Eurovision Song Contest representing Luxembourg)
She comes from an artistic family. Her grandfather was a renowned musician and Paula started to sing when she was 16 in high school. That is her first time taking part in a television show but she seems very comfortable on stage thanks to the song that she has had to perform. She loves French and Italian ballads and she clearly is able to identifiy with the song's message, she confessed a few seconds before stepping on the Destino Eurovisión stage.
Paula started her performance in the middle of the stage and five backing singers, three women with elegant hats and two men, stand together on the other side of the stage moving slowly to the beat of the song. It is plain to see that Paula feels very confident and confortable doing what she loves. The girl looks really beautiful in that white outfit. The public goes crazy as she sings the last notes of her song.
The show:
Host Anne Igartiburu welcomed us once again to the TVE studios in Barcelona for the first show of Destino Eurovisión while Daniel Diges, last year representative was talking with some of the candidates and reporting from the backstage.
There are a five-member jury composed by the singers and songwriters Albert Hammond, Merche and David Ascanio, Eurovision Song Contest expert Reyes del Amor and popular television personality Boris Izaguirre whose role consists of consider to all the candidates after their performance.
In between songs, we could watch some humorous videos about different topics such as "Why Spain did not win the Eurovision Song Contest?"
During the gala, the jury decided to eliminate four candidates. They were Roima Durán, Las Miranda, Sunami and Paula Marengo.
Then, a short recap of the entries and the voting lines were opened for 20 minutes.
While audience was televoting by their favorite artists we could enjoy with the performances of Soraya, 2009 Spanish representative, with Live Your Dreams; the flamenco singer Pitingo with She Works Hard For The Money; and Albert Hammond (one of the jurors) who interpreted one of his most popular songs It Never Rains In Southern California.
The results:
The most voted by the audience were David Sancho, Auryn, Lucía Pérez. And, finally, the lucky ones choosen by the jury were Gio and Da Igual.
This five will be the ones who participate (together with the five chosen on the second heat) on the semi-final to be held in a few days.