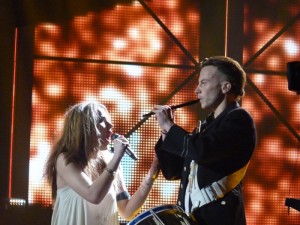 Danish broadcaster, DR, has decided that Emmelie de Forest's drummers from the Danish final will change outfit for the Eurovision Song Contest. This comes after they have been made aware of that the uniforms turned out to be Nazi looking uniforms.
When the crew behind Emmelie de Forest were looking for clothes for the performance in Dansk Melodi Grand Prix they digged into DR's costume warehouse where they found some uniforms, which they thought was cool and would suit the drummers on stage during the song. DR approved to lent out those uniforms, but were later, after the Danish final, made aware of that the uniforms are very similar to some Nazi uniforms. When they looked into the case they also realised that the uniforms were in DR's costume warehouse as they had previously been used exactly as nazi uniforms in a Danish TV serie about Nazism.
As several foreign broadcasters started asking for Emmelie's performance from the Danish final DR got busy making sure that it wouldn't be seen so clearly: "Luckily we manged to edit in the tapes we have sent out. We have blurred out the stripes on the arms of the uniforms, that shows it is an SS nazi looking uniform. It would have been a disaster had we not done that", says DR's entertainment boss Jan Lagerman Lundme. He also adds that for the Eurovision Song Contest in Malmö they will of course find another outfit. He says that DR has not received any complaints from foreign media and broadcasters, but should they do so he is of course offering a sincere apology and will explain that it was an embarrassing mistake.
Denmark is currently tipped among the bookmaker favourites to win this year's Eurovision Song Contest with the song Only Teardrops, which you can see below.
You might also want to read: 
High viewing figures and good rating for Dansk Melodi Grand Prix 2013
Gallery: Dansk Melodi Grand Prix 2013 – Dress rehearsal 
A Friend In London's debut album, Unite, released today