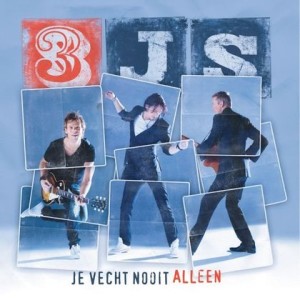 The Netherlands apparently can't get enough of 3JS, and since the selection of Je Vecht Nooit Alleen in the Nationaal Songfestival on the 30th of January, the group have achieved something of a unique feat with their entry.
The original Dutch version took little time to make its impact on the Dutch chart, rapidly climbing to the top spot. "What's so special about that?", we hear you ask, as Sieneke managed exactly the same last year with her entry Ik Ben Verliefd (Sha-La-Lie). Already the day after the Dutch entry was chosen, speculation arose as to whether 3JS would perform their entry in Dutch or English at the contest. An English version was recorded not long after and given the title Never Alone.
3JS have now managed the enviable feat of topping the Dutch charts on two separate occasions with the same song – the first time in its original Dutch version and most recently in its reworked English version. The single made the incredible jump from 75th to 1st position in the course of a week! It's good to see that the Dutch are getting behind their entry and supporting the band – perhaps this will help make their performance even better once on stage in Germany.