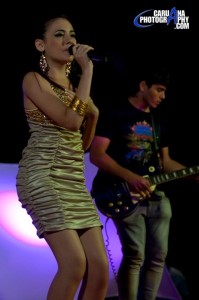 Domenique Azzopardi has had a very busy year.  She participated in the Malta Eurosong with I'll Follow The Sunshine written by Ralph Siegel and also the Malta Summer Hit Contest.  Now she is successfully starring in a new popular Maltese drama called D.R.E.A.M.S.
Domenique was born to entertain.  She has participated several times in the Malta Junior Eurosong.  Since she reached 16 she participated this year at the Malta Eurosong and in recently successfully sung at the 2011 Malta Summer Hit Contest with the popular upbeat song, Love Trap.
Now Domenique is a popular member of the cast of D.R.E.A.M.S. It is a high school drama talking about the private lives of teenagers and their problems.
Domenique will also try and compete for Malta at the Eurovision Song Contest.  Eurovision is a big passion for her and her family.  So, maybe we will see Domenique at Eurovision in the near future.
You can see Domenique perform Love Trap at the final of the 2011 Malta Summer Hit Contest and also a trailer from D.R.E.A.M.S. below.