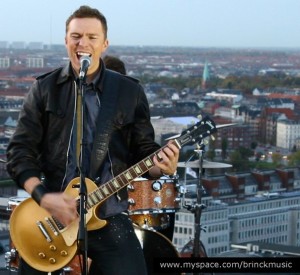 On Friday evening one lucky Dane will have the honour of a private concert with Brinck in own living room. Until tomorrow people can submit their request to win this very intimate concert. All you have to do is tell what you have to offer Brinck if he will be visiting you before leaving for Moscow.
The concert will take place at Friday at 21:00 CET somewhere in Denmark. Brinck will go to the lucky winner's home bringing a guitar for this special concert.
In order to win you need to reveal what Brinck will be treated with in case he visits you. Will you offer him a good meal, a special "good luck in Moscow" drink or maybe a kiss? The one with the best offer wins his or her own little concert Friday evening.
Take part in the competion up until Thursday the 30th of April at 12:00 CET. By participating you are agreeing to that DR, the Danish broadcaster, may contact you for interviews about your experience.
Brinck will be leaving for Moscow on the 4th of May and will take part in the second semi-final of the Eurovision Song Contest on May 14th and hopefully again in the final two days later.