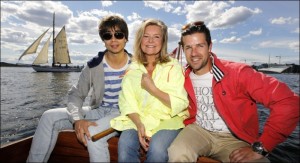 With three widely diverse performers such as Bettan, Alexander Rybak and Didrik Solli-Tangen on stage, something for practically every taste is almost guaranteed. The three artists combine their styles and talent to bring concertgoers a unique experience in July.
All good things come in threes, and the newest combination is no exception. One half of Bobbysocks and undisputed queen of Norwegian Eurovision Elisabeth Andreassen is holding a string of concerts in July and has joined forces with young tenor Didrik Solli-Tangen, who represented Norway on home ground at the 2010 Eurovision Song Contest in Oslo coming 20th with My Heart is Yours as well as former winner and record breaker Alexander Rybak, who after sweeping all competition aside in 2009 with Fairytale needs no further introduction to most fans.
Bettan herself has represented Norway three times, both as one half of Bobbysocks, giving Norway its first victory with La Det Swinge, in 1994 together with Jan Werner Danielsen coming 6th with Duett and coming runner-up at the 1996 Eurovision Song Contest in Oslo with I Evighet. In addition, the Norwegian artist with Swedish roots has also participated once for Sweden as the other half of Chips with the Schlager evergreen Dag Efter Dag in 1982, as well as entering the national selections of both countries a staggering seven times – five times in Melodifestivalen: 1981, 1984, 1990, 2002 and last year with Vaken i en Dröm, as well as twice in Melodi Grand Prix: 1998 and in 2003 with Kikki and Lotta singing Din Hånd i min Hånd. The artist has more than ample hits from her back catalogue to please even the most ardent fans.
Their concerts premiered on the 5th of July at the Hotel Klubben in Tønsberg, and performances were/will be given on the 6th, 7th, 8th, 13th and 14th of July, with two performances planned for the 14th, at 6pm and 9pm. Their premiere was recently described by Norwegian tabloid VG as a "musical Kinder egg", with all three
artists performing songs from their own repertoire, with both classical, folk and pop music well represented in their performance. The combination of all three artists appears to be a great success in many ways, although their first concert received some criticism for lack of chemistry between the three on stage, with them almost trying to outdo each other. Andreassen received heaps of praise for her stage presence and confidence as a performer, whereas both Alexander Rybak and Didrik Solli-Tangen needed a little time to build up a rapport with the audience. Andreassen performed such diverse hits as The Lady is a Tramp and the opera aria Queen of the Night; Solli-Tangen was complimented in his ability to adapt and entertain, and Rybak was compared to a rockstar with his memorable performance of La Ronde Des Lutins by Bazzini.
All in all the trio should be satisifed with a well produced and performed show, with great musical diversity and positive reactions from both press and fans alike. All Eurovision fans close to Tønsberg should make the effort to catch their show before it comes to an end this coming Saturday – with no fewer than three Eurovision artists for the price of one, you'll be awfully glad you did. Tickets cost NOK 482 (approx EUR 64) and are available through Billettservice.