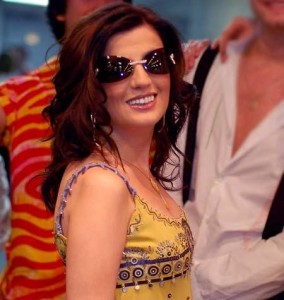 She won the combined jury and public vote with nearly 40% of all votes. It was a clear two horse race with her closest competitor taking 1/3 of the points. The other 10 songs had to share less than 30% of points.
It's not the first time that Diana tried to reach the Eurovision Song Contest, in 2007 she competed in the Belarusian national final Eurofest.  She made it to the final four along with Dmitry Koldun and The project.  In fact that year she was not the only Georgian born female solo singer to compete in a Eurovision preslection.  Tamta competed in the Greek national final, so it could have been a very Georgian heavy Eurovision if they had succeeded. 
Like many from her part of the world Diana has taken part in many national day concerts all around the former USSR countries.  She has a husband and a child and to add her her family credentials her own brother is her producer.  She will not be the first lind singer to participate in the ESC, in 2000 Serafin Zubiri sang for Spain and in 2002 Corinna May did the same for Germany.
Diana will compete in the second semifinal of the 2008 Eurovision Song Contest in Belgrade on the 22nd of May.
In my view
Diana is a great singer, but this entry pales in comparision to her 2007 Eurofest entry.  There will have to be a great amount of work put into the stage act to make sure it doesn't end up looking like Germany's 2002 offering.  Her being blind needs to be treated carfully and if they just put a load of dancer around her it will look funny.

The opinion expressed in "In my view" are those of the author and are not necessarily the one of EuroVisionary.com.